Ebola crisis: The Britons helping with aid to Sierra Leone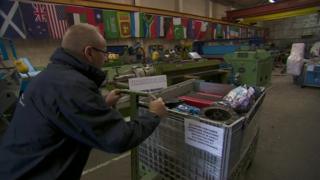 At first glance, the warehouse in Bolton does not appear to be anything out of the ordinary.
There are big trucks parked outside and a few workers loading them up.
Inside the main office is a shrine to Manchester City.
Posters adorn the wall and a table leans against it, fashioned out of an old turnstile, painted blue, of course.
Hanging up are several hand-carved frames of the City club badge made by a man from Sierra Leone fondly known by supporters here as Mr Man City.
"I met Armani [Sheku Kamara] in 2003 on a beach in Sierra Leone," says Tony Griffiths a retired police officer and lifelong Manchester City fan.
"He was trying to sell me counterfeit goods but there was something about him - I could see he was a bright guy."
'Desperate situation'
They struck up a conversation during which Armani promised to become a City fan if Tony bought a counterfeit watch from him.
Not long afterwards both men worked together to set up a City supporters' club in the West African country.
In addition to that, Armani runs a football team called Manchester City Sierra Leone which is in the first division of the professional league there.
But now, for him, as for so many others in his country, life has been changed by the Ebola crisis.
Visibly upset, Tony says: "Football has stopped. They're not making any money, it's a desperate situation."
The virus has killed about 4,500 people so far, with nearly all of the deaths in Liberia, Guinea and Sierra Leone.
"There are outbreaks to the east of where Armani is and to the west. He's so fearful. We're trying to help. He's like a son to me."
Hand gel
Outside in the main warehouse, we see the evidence of Tony's aid effort - a pallet is being used to move three trucks-worth of supplies.
Inside the packages, there are bags of Manchester City T-shirts, reading glasses, some blue Father Christmas costumes and bottles of hand gel - hundreds and hundreds of them.
"There is no running water to constantly wash hands so I've asked everyone to donate a bottle of hand gel," says Tony.
"We're making it clear this is not a magic cure, just one of the strategies to keep clean."
The supplies will take three weeks to get to West Africa by ship and then Armani will use a bus funded by City supporters to distribute aid packages to hospitals and homes.
Back in the main office Tony phones Armani on his mobile. There is some terrible news: The club medic has died. Alie Turay was a key figure at the club for six years, tending the players' injuries and, latterly, also helping Ebola patients.
Breathing deeply Tony listens but afterwards, with a heavy sigh, he says: "We're doing what we can, I'm not sure it's enough."
'Heart rending'
More than 40 miles away in Leeds, Dr Mohamed Dawo is also on the phone - listening anxiously to his cousin Joseph Mans who's in Freetown.
The normal everyday greeting of 'How are you?' has much more emotion attached to it these days.
Softly spoken Mohamed says: "When I have a phone call from home I'm worried, maybe it's a funeral, or maybe somebody I know has passed away.
"It is very heart rending. I have sleepless nights thinking about what's happening at home."
Mohamed lives in Leeds with his wife and children but the rest of his family, including his brothers, nieces and nephew, are in Sierra Leone.
"We are a very close family. I was meant to be with them this Christmas. I want to see whichever way I can help, giving practical advice on the phone or sending money and rice."
Joseph tells us over the phone there are still many people in unaffected parts of Sierra Leone who are "in denial".
He says getting people to stop habits such as hugging, and making sure people avoid handling victims' bodies, is very difficult.
Mohamed tell us about his older brother Dr Alusine Dawo, a surgeon working in Freetown.
"He's very conscientious, but I say to him 'listen, brother, I don't believe in a dead hero so when you're dealing with any patients protect yourself properly'. He says to me 'I've got a job to do'."
WHO investigation
People like Mohamed's brother are heartened to know of the support from the UK - not just by people like Tony but by the government.
Ninety-one British medics from 22 Field Hospital in Aldershot are in Sierra Leone working at a treatment centre set aside for those whose jobs entail the risk of infection. The nurses, doctors and infectious disease consultants are working with 40 soldiers.
Mohamed questions why the response took so long. The World Health Organization has said there will be an investigation into their handling of the Ebola crisis once it is over.
"Help could have come quicker but we do really appreciate the international community's help and everyone who's doing something. I'm frightened. This is a situation we can't handle on our own."