Abbas Khan: Mystery over surgeon's death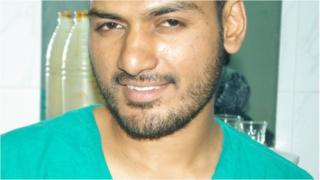 The inquest at the Royal Courts of Justice into the death of the British orthopaedic surgeon Abbas Khan, 32, from Streatham, south London has been hearing from a Syrian man known only as "Mr B".
Dr Khan was detained by the Syrian authorities in Aleppo two years ago and found dead in a prison cell last December.
There are concerns about the safety of Mr B - a Syrian living in this country whose real name has been withheld - who has stated that one of his contacts is the head of the Syrian Air Force intelligence agency, which has a reputation for being the most brutal of all the country's secret services.
Through this contact, Mr B has said he helped get a friend's brother released from prison in Syria.
Dr Khan's family got in contact with him in the hope he would help them as well.
But this time, he said, the air force intelligence chief was not able to do anything because Dr Khan was not being held by his agency.
He remained in contact with the family and, after it was announced that Dr Khan was dead, met two of his brothers.
MI6 meeting
The account of that meeting given at the inquest this week by Dr Khan's brother Afroze is dramatic.
He said Mr B had told him on the phone that he wanted to meet in person because of fears his calls were being monitored
Afroze Khan told the inquest he felt "a bit nervous" and his other brother went along with him to the meeting.
He went on to describe the conversation in which he said Mr B had told him MI6 had overheard a phone call he'd had with the Syrian Air Force intelligence chief.
In that phone call, Afroze quoted Mr B as saying they had discussed how Syrian war planes would be in range of British bases in Cyprus and so could retaliate if the United States and the UK decided to launch airstrikes on Syria, which was being considered at the time.
It was then, according to Afroze, that Mr B said MI6 came to visit him, a meeting in which the subject of Dr Khan's detention in Syria was also discussed.
"He said to MI6, do you want to get Abbas Khan released?" Afroze told the inquest, quoting Mr B.
"They said they would not want people like Abbas Khan to return to the UK because of the security risk, it would require extensive surveillance."
"Mr B then told me that when he heard of Abbas Khan's death, he thought a green light had been given to Syrian intelligence by MI6 to eliminate Abbas Khan, that was his first thought."
Humanitarian mission
The inquest has heard that Dr Khan, who died in a prison in Damascus on 16 December 2013, had been accused by the Syrian authorities of entering the country illegally to fight for terrorists.
Speaking at the opening of the inquest in London, chief coroner Peter Thornton said there was no evidence Dr Khan had gone to Syria to fight.
"On the contrary," he said, "he went to provide humanitarian medical aid."
Afroze Khan told the inquest he had "no shred of doubt that the Syrians killed my brother".
But the Syrian authorities say he committed suicide.
When Mr B himself took the witness stand at the inquest, he denied being a back-door channel between the British and Syrian intelligence agencies.
He did confirm meeting two government officials who he thought could be British intelligence, but said the conversation with them was general and they did not discuss Dr Khan.
Facing a series of questions from the barrister representing the Khan family at the inquest, he answered on several occasions that he could not remember.
But when asked if he'd said in his meeting with the Khan brothers that a green light had been given by Britain to kill Dr Khan, he did give a direct answer.
"Syria does not need a green light from the UK to kill him, they are killing thousands… they don't need permission."
Speaking on the first day of the inquest, the surgeon's mother Fatima Khan said she'd been told by the Syrian deputy foreign minister in late November 2013 that her son would be released in 10 to 15 days.
But she said on 16 December of that year, she was taken by intelligence agents to a high security prison to be told her son had committed suicide.
"I said no, you killed my son," she told the inquest.