Terror-related arrest woman bailed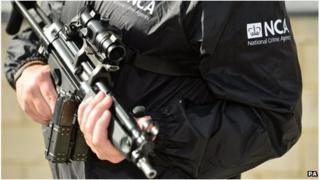 A 19-year-old woman arrested by counter-terrorism police in London has been released on police bail.
She was questioned at a central London police station on suspicion of intent to supply a firearm and perverting the course of justice.
The woman was arrested at a residential address in east London on Wednesday.
According to the BBC's Danny Shaw, she has been bailed until next week, and six men arrested as part of the same inquiry remain in custody.
Five men were arrested as part of the same investigation on 7 October. Two have been released and the other three remain in custody at police stations in London.
Also, three more men - aged 24, 21 and 25 - were arrested on 13 October on suspicion of being concerned in the commission, preparation or instigation of acts of terrorism.
They also remain in custody in London.
As a result of these arrests, residential addresses in north west London, and a business address in west London have all been searched by police.