Charlie Brooks and Stuart Kuttner lose hacking costs case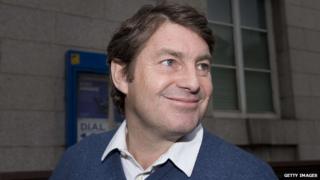 Charlie Brooks and former News of the World managing editor Stuart Kuttner will not have their phone-hacking trial costs repaid, a judge has ruled.
Mr Brooks, 51, who is married to former NoW editor Rebekah Brooks, and Mr Kuttner, 74, were both found not guilty in the case.
They had applied to have their costs - around £600,000 and £135,000 respectively - repaid.
But judge Mr Justice Saunders said they had "brought suspicion on themselves."
Rejecting their applications, he said in a statement: "I have refused both applications for costs as I am satisfied that the defendants' conduct brought suspicion on themselves and misled the prosecution into thinking that the case against them was stronger than it was.
"They have been acquitted by the jury and are innocent of the charges that they faced and I have considered their applications on that basis."
Racehorse trainer Mr Brooks said: "At least on a racecourse, when you back a winner the bookmakers pay you."
Mrs Brooks, who was also cleared, dropped her legal bid to recover her defence costs earlier this month.
Her barrister told the Old Bailey any costs she recovered would automatically have gone to her ex-employer News UK because it had paid her legal costs.