Staff at MoD's Defence Support Group on strike over pay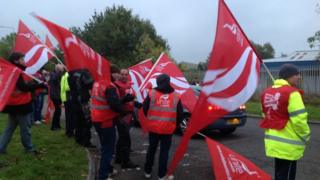 Hundreds of Ministry of Defence staff have gone on strike over pay amid plans to sell off a specialist group to the private sector.
Staff at the Defence Support Group (DSG) - which maintains, repairs and procures equipment for the MoD - want an 8% pay rise for 2014, with unions describing a 1% offer as "derisory".
Unite union said more than 800 staff started a 24-hour strike at 00:01.
A DSG spokeswoman said all MoD staff were restricted to a 1% pay increase.
'Decent pay'
Unite spokesman Mike McCartney said: "DSG will probably be sold off to the private sector in 2015 and our members want to be able to take with them to their new employer, a decent rate of pay which can be consolidated for pension purposes.
"DSG has cash reserves of £65m, which will go back to the Treasury, once the sale has been completed. The current DSG management can afford to give a substantial pay rise to the workers who have made DSG such a success story."
Further action will be held on Thursday and later this month in some areas.
Staff are staging action on Wednesday at sites in: Bovington, Dorset; Catterick, north Yorkshire; Colchester, Essex; Donnington, Shropshire; Sealand, north Wales; Stirling and Warminster, Wiltshire.