Archbishop Justin Welby: Air strikes alone 'won't succeed'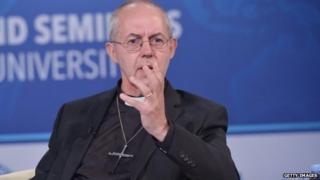 Fighting Islamic State militants through air strikes alone is both unlikely to succeed and questionable in its long-term effect, the Archbishop of Canterbury has said.
Justin Welby also said religious leaders must "up their game and engage jihadism... in religious space".
In an article for Prospect magazine he also warned that justifications for violence must be robustly challenged.
He described the situation as a "winnable struggle".
In his article, the archbishop argues that whatever is done to face IS must be "global, holistic, and determined over the long term" with the clear intention of building a "just peace".
He states that the current situation is neither a war on terror nor a conflict of civilisations, but instead "a terrible mix of ethnicity, economics, social unrest, injustice between rich and poor, limited access to resources, historic hatreds, post-colonial conflict and more - which need to be tackled ideologically".
'Reshape our values'
He argues it is essential that Christians are clear about the aim of peace and the need for working together, and that Muslim leaders continue explicitly to reject extremism, violent or otherwise.
Above all, he writes, there needs to be a new and compelling alternative narrative to prevent young people being falsely lured into becoming religious warriors.
"The victory requires us to reshape our values, as much as to overcome those of IS," he writes.
Any armed force, the archbishop says, must be done in the context of "a greater and more selfless ideal that renews the vision that rebuilt our own continent" after World War One.
He also describes the emergence of IS as a wake-up call, pointing out that attacks on religious and ethnic minorities, Christian and others, are fast becoming more severe.
Meanwhile, former Prime Minister Tony Blair has called for a global drive to tackle the roots of extremism by making education systems in all countries teach respect for other religions.