Civil servants in 24-hour strike over pay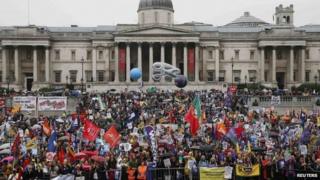 Thousands of civil servants across the UK are staging a 24-hour strike over pay, with disruption to museums, job centres and courts expected.
About 200,000 members of the Public and Commercial Services Union (PCS) were expected to take part.
The union claims that years of pay freezes will have caused a 20% cut in income in real terms by next year.
The government argues that pay restraints have kept more public sector workers in jobs.
Driving test centres are also expected to be affected by the strike as well as ports and airports, and picket lines are due to be mounted outside government offices.
The action follows a four-hour strike by health workers on Monday, including midwives taking action for the first time in their history.
The PCS - which is the largest civil service union in the UK with about 240,000 members - claims that increased pension contributions since the coalition came to power are also to blame for the predicted 20% cut in income.
The union argues that a report by the independent think tank the New Economics Foundation, shows that the poorest 10% of Britons have seen a 15% decline in their incomes over the past year.
PCS general secretary Mark Serwotka said: "Our action this week demands an end to these cuts that are slashing the public servants' living standards at the same time as millionaires are handed tax cuts and tens of billions of pounds is stolen from our public finances every year through tax evasion."
On Saturday hundreds of thousands of union members are expected to take part in a march in London organised by the Trades Union Congress (TUC) under the theme of "Britain needs a pay rise".