'Secret' terror trial begins at Old Bailey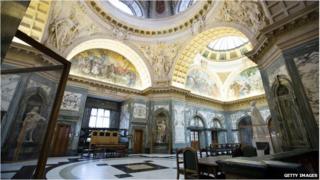 A jury has been sworn in at the Old Bailey for a terror trial that will be partially held in secret.
Mr Justice Nicol told the jury of eight women and four men that parts of the trial of Erol Incedal will never become public.
He is accused of engaging in conduct in preparation for acts of terrorism and possessing a document useful for terrorism, entitled "bomb making".
The 26-year-old from London denies both allegations.
Prosecutors will formally open their case on Tuesday - although it is not clear how much of the allegations against Mr Incedal will be heard in public.
Mr Justice Nicol told the jury that they must reach verdicts according to the evidence heard in court - and they must not discuss what they hear and see with anyone outside their number.
He said: "This trial has some unusual features. The usual way that justice is administered is in public. Some of this trial will be conducted in that way.
"However there will be other sessions of this trial that will be conducted in private. The public will not be able to attend these."
The judge told the jury that "a limited number of journalists" would be able to attend to see and hear this evidence - but they would not be able to report what is said.
He added that there would be a third part of the trial where even these accredited journalists would be excluded from hearing the evidence.
"This is another reason why you must not talk about the private proceedings with anyone else outside of your number," said the judge.
He added that jurors must set aside any emotions they have about terrorism allegations - and decide the case "coolly and dispassionately".
The 10 journalists accredited to attend the secret parts of the trial include one from BBC News.