Former army major Robert Armstrong stripped of Military Cross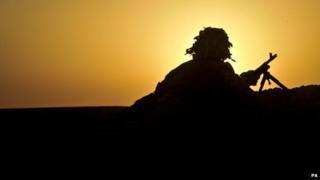 A former army major who received the Military Cross for bravery in Afghanistan has been stripped of the medal after a five-year investigation.
Major Robert Armstrong was given the award for calm leadership under fire, saving the lives of injured troops.
But an investigation was launched after claims that the medal citation may not have been accurate in its details.
It is believed to be the first time the Queen has withdrawn such a prestigious medal from a serviceman.
The move was confirmed in the London Gazette, a journal that publishes official notices.
"The Queen has directed that the award of the Military Cross dated 6th March 2009 to Robert Michael Armstrong, formerly Major, Royal Regiment of Artillery, 543241, shall be cancelled and annulled," the notice published on Friday said.
Armstrong was dismissed from the Army two years ago for keeping top secret documents at his home.
Military police also found hundreds of rounds of ammunition there.
The judge at Colchester Military Court in 2012 said Armstrong had shown a "cavalier attitude" to handling dangerous material and publication of the documents in his possession could have caused loss of life.
Armstrong received a one-year prison sentence, suspended for two years, for the offences.
'False accounts'
The former major had received a Military Cross for "consistent bravery and inspirational leadership" in Afghanistan in March 2009.
As well as interviewing Armstrong under caution in May of that year, military police launched an investigation into all gallantry medals awarded to Armstrong's regiment, the Royal Artillery, in Afghanistan after claims that honours may have been based on false battle write-ups.
It is thought it was the first such inquiry in British military history.
When the investigation was announced, the Ministry of Defence said the integrity of the operational honours system was "a matter of utmost importance" and any suggestion of wrongdoing would be "taken extremely seriously".
There has been no official explanation of the circumstances behind the removal of Armstrong's medal and the MoD has declined to give further details.
A spokesman said: "The MoD can confirm that an investigation has concluded into the circumstances surrounding the award of a gallantry medal relating to an incident in Afghanistan."