David Cameron says Ebola screening needed to 'keep people safe'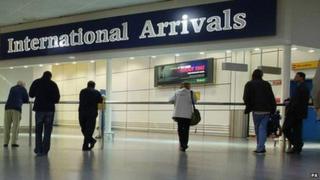 British Prime Minister David Cameron has said the government is right to take action "to keep our own people safe" from the Ebola virus.
His comments came after the government decided to screen some people arriving in the UK for the virus.
Ministers initially said there were no plans to screen people arriving from Liberia, Guinea and Sierra Leone.
Those arriving from areas hit by Ebola face "enhanced screening" at Heathrow, Gatwick and Eurostar terminals.
There are no direct flights to the UK from the affected areas but people can fly via Paris or Brussels.
Downing Street said passengers would be asked questions and potentially given a medical assessment during the screening process.
The Department of Health said further details about how passengers will be checked will be announced next week before the measures come into effect.
A statement said: "Government departments, health protection agencies and the transport sector are continuing to work closely together to minimise the risk...
"It is important to stress that given the nature of this disease, no system could offer 100% protection from non-symptomatic cases but the overall risk to the public in the UK remains very low."
'Act on advice'
Mr Cameron said: "Quite rightly, we're taking all the steps we can to keep our own people safe here in the UK.
"What we do is we listen to the medical advice and we act on that advice and that's why we're introducing the screening processes at the appropriate ports and airports."
Mr Cameron also said: "What we're focusing on as a country is taking action right across the board to deal with this problem at source.
"We're making a bigger contribution than almost any other country, in West Africa, to help deal with the crisis at its source."
Gatwick said on Friday morning it knew nothing about the new measures.
An airport spokesman said: "We've not had anything at all. We're still waiting for Public Health England (to let us know)."
A Heathrow spokesman said it was working with the health body to implement the measures and reassured passengers the risk of a traveller contracting Ebola had been assessed as low.
Eurostar said it was "liaising with relevant authorities to work out how it will be implemented".
Ebola symptoms: What to do in the UK
Symptoms of Ebola include fever, headache, vomiting, diarrhoea and bleeding - but these are similar to more common infections like flu and some stomach bugs.
If you have these symptoms and have had contact with an Ebola patient, ring 111 first. Do not go directly to A&E or a GP.
If there has been no contact with Ebola, seek help from 111, your GP or A&E if necessary.
The chances of developing Ebola in the UK are low.
'No difference'
BBC transport correspondent Richard Westcott said it would take "a few days" to get screening in place in the UK.
He said: "My understanding is that it's easy to trace the starting point of someone's journey, even if they transferred flights along the way, because effectively they are still travelling on a single ticket which is logged on a computer.
"So it should still be simple to identify most people who've come from those high risk countries, unless they really have gone around the houses to get here.
"If one of those people shows any signs of Ebola, they might be asked to wait for a few hours at the airport while tests are carried out."
Our correspondent said before the outbreak, just under 200 people a day flew directly to the UK from the affected areas and added that "most travellers won't notice any difference".
Home Office minister Norman Baker said the government changed its mind about introducing screening as a result of new advice from the chief medical officer.
Mr Baker said: "I think it's a good reflection on the government that they listened to professional advice from the chief medical officer and are prepared to change their minds."
Meanwhile, the Foreign Office said it was working with the Macedonian government to investigate the circumstances surrounding a British man's death in the country on Thursday.
It had been claimed that the man - thought to be 57 - may have had Ebola but Whitehall sources earlier said it was "very unlikely" he could have contracted the disease.
The outbreak has already killed more than 4,000 people, mostly in West Africa, with more than 200 health workers among the victims.
People leaving areas affected by the outbreak have been subject to checks for some weeks, although people do not become infectious until they display symptoms.
Earlier this week a Spanish nurse became the first person to contract the deadly virus outside of West Africa.
Leading global health experts did not anticipate the scale of the Ebola outbreak, Chris Dye from the World Health Organization (WHO) has told the BBC.
He said the international response was helping but needed to continue.
A health expert has said that screening is a "mistake" and that he can not "see the point".
David Mabey, professor of infectious diseases at the London School of Hygiene and Tropical Medicine, told BBC Radio 4's Today programme: "There will be a lot of delay and disruption as they do not know who to screen."
The priority should be on testing those who are at risk and become sick, said Prof Mabey.
Money spent on the screening would be "better spent on setting up places where people can go and be tested and telling people where that is", he added.