Fraud police chief warns of lack of officers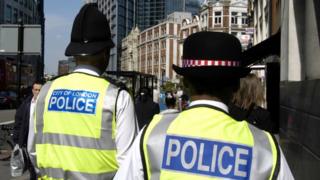 There are not enough fully trained fraud investigators, the senior police officer responsible for tackling the crime in England and Wales has warned.
The number of recorded fraud cases has risen by two-fifths over the last three years, mostly due to an increase in computer-related fraud.
Commander Steve Head said criminal gangs were behind it.
The Home Office said it was working closely with police to increase the number of investigations.
Rising caseload
Cdr Head, from the City of London Police, told the BBC there needed to be many more police investigations into fraud to combat the "huge" number of criminal networks behind it.
---
Fraud in England and Wales:
211,000 cases (Mar 2013-Mar 2014)
Rise of 17% on previous year
333,000 other cases reported by industry bodies
---
And research for Radio 4's File on 4 programme suggests a recent increase in the number of specialist fraud officers has been outstripped by the rising caseload.
A growth in computer-related fraud has contributed to a rise in offences, though much of the rise in the number of cases may be explained by the fact that a new organisation, Action Fraud, has made it easier for the public to report incidents.
In the 12 months to the end of March, 211,000 frauds were recorded by police in England and Wales - up 17% on the year before.
In addition, 333,000 frauds were reported by industry bodies, a 2% rise.
In a report last year, the House of Commons Home Affairs Committee said that when it came to cyber crime, there was a "black hole which allowed criminals to make huge profits from fraud".
Cdr Head, national co-ordinator for economic crime, said police needed to map and understand new types of fraud in which criminal gangs in remote locations could target people using computers and smartphones.
Cyber scams
"This is a completely new phenomenon in terms of the way technology is being used in order to target thousands, tens of thousands, hundreds of thousands of people in this fashion.
"Technology is a great thing but it's also been a great thing for the criminals," he added.
Among the most common types of cyber scams are mass-marketing frauds, in which people are persuaded to part with money on the promise that a larger sum will be paid later, and bogus auction websites - advertising goods that are never sent after the payment has been received.
But Cdr Head said police were not carrying out enough investigations into the allegations they received.
"I'd like to see a lot more inquiries. I'd like to see considerably more inquiries. I think it's important that we understand just how fraud - and particularly what we're seeing with fraud committed over the internet - impacts upon local communities," he said.
He suggested that what was holding many police forces back was a lack of trained officers and staff to investigate fraud.
"I think policing has a responsibility to look long and hard at how we're meeting that threat at the moment and make sure we are satisfied that we are providing enough resource and enough skilled resource to meet that threat."
'Cinderella crime'
File on 4 carried out research on the numbers working in police fraud or economic crime teams, from data supplied by 29 of 45 UK police forces under the Freedom of Information Act.
The study showed that, compared to 2011, staffing levels had risen by 11%.
The number of specialist fraud officers increased by 20, from 428 to 448, while the number of civilian financial investigators went up from 235 to 289.
During the same three-year period, frauds recorded by police in England and Wales increased by more than 40%.
"We don't have enough officers trained to deal with economic crime and fraud at the moment," said Cdr Head, adding that efforts were going on to improve the situation.
Last week, Scotland Yard launched Operation Falcon, a 300-strong unit to combat fraud and online crime, and the National Crime Agency, which was established a year ago, has its own Economic Crime Command.
But Prof Mark Button, director of the centre for counter-fraud studies at the University of Portsmouth, said fraud remained a "Cinderella crime" with only 0.27% of police specialising in it.
"The more sexy crimes, like robberies, burglaries etc, will always secure much more attention," he said.
Professor Button has estimated that - including offences that are not reported to police - there are about 29 million frauds in Britain each year.
He calculated that this means there is a one-in-500 chance of a suspect being prosecuted.
"If you're a fraudster your chances of getting caught are probably the lowest of most types of crime," he said.
The Home Office Minister, Karen Bradley, said: "Fraud is a complex crime which can spread across multiple police forces simultaneously. A joined-up response is the best way to understand and tackle it, which is why Action Fraud was established."
She added: "We are working closely with the City of London Police to ensure an improved service for victims across local police forces."