Alan Henning's widow attends 'service of reflection' for murdered hostage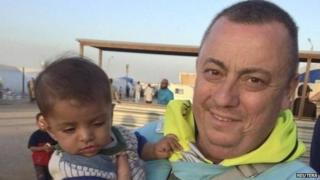 Alan Henning's widow and children have attended a "service of reflection" in Salford for the murdered aid worker.
Barbara Henning and their children Lucy and Adam were joined more than 500 people at the service in Eccles Parish Church earlier.
A video appearing to show the beheading of Mr Henning was posted online by Islamic State militants on Friday.
Members of the convoy to Syria, from which Mr Henning was kidnapped, also attended the service.
The Rt Rev David Walker, the Bishop of Manchester, said earlier that the evening service in Mr Henning's hometown would "mark Alan's life" and the good he did.
'Won't divide us'
Mr Henning, 47, whose family said on Saturday that they were "numb with grief", was delivering aid when he was kidnapped in Syria in 2013.
Bishop Walker said the service was intended to acknowledge the "good that he did" and bring people together to support Mr Henning's family.
"Within the Greater Manchester area, it's part of our tradition to come together at times of tragedy," he said.
"This won't divide us, it will simply reaffirm us in our commitment to one another and to the future of the world of which we are a part."
The church is next to the minicab office in which Mr Henning worked, where a number of flowers have been laid.
A minute's silence in tribute to Mr Henning was also observed by rugby union fans before the Sale Sharks game with London Wasps at the AJ Bell Stadium in Salford.
And an Alan Henning Memorial Fund has been launched by his friend and fellow aid worker Shameela Islam-Fulfiqar, with the aim of raising £20,000 in his name.
Dr Islam-Fulfiqar said the fund had been set up to show Mr Henning's children "their father's death was not in vain and that the work that Alan was so committed to will also continue".
"A project will also be set up in Alan's name eventually to benefit those that Alan died trying to help in Syria to ensure his legacy continues long after he was taken from us," he added.
In a statement after Mr Henning's death, his widow Barbara and their two children said: "Alan was a decent, caring human being.
"His interest was in the welfare of others.
"He will be remembered for this and we as a family are extremely proud of him and what he achieved and the people he helped."
Mrs Henning's brother, Colin Livesey, described the killers as "scum" and said the family had lost a "great person".
He also said the British government could have done more for Mr Henning in the months after he was kidnapped.
Mr Henning was a volunteer on his fourth aid mission to Syria when he was taken hostage minutes after arriving in the country.
Prime Minister David Cameron described the murder as "completely unforgivable" and has vowed the UK will do all it can to find those responsible.
The video released on Friday is yet to be verified, but it appears to show Mr Henning kneeling beside a militant dressed in black, in a desert setting.
The footage ends with an IS fighter threatening a man they identify as American Peter Kassig, an aid worker.
Mr Kassig's family, who said he had converted to Islam and referred to him as Abdul Rahman Kassig, appealed to IS to "show mercy" and release him.
As in previous IS videos, the one of Mr Henning features a jihadist who, from his accent, appears to be from Britain.
RAF Tornados first hit IS targets on Tuesday, four days after Parliament authorised UK involvement in an international military campaign.
IS has seized large parts of Iraq and Syria and declared what it describes as a caliphate in the areas it has taken.