Ex-NoW news editor Ian Edmondson admits phone hacking charges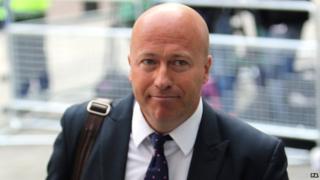 Former News of the World news editor Ian Edmondson has admitted plotting to hack phones while at the paper.
Edmondson, 45, is the eighth person to be convicted in relation to phone hacking at the now-defunct tabloid.
The judge at the Old Bailey warned Edmondson he was likely to receive a custodial sentence.
Edmondson's victims included two home secretaries, along with Sir Paul McCartney and actors Jude Law and Sienna Miller.
Separately, former News International legal adviser Tom Crone has been told by prosecutors that he faces no further action in relation to the phone hacking conspiracy.
The Crown Prosecution Service did not name Mr Crone, but a statement on its website said: "The CPS has today decided that no further action will be taken in relation to an individual arrested on 30 August 2012, concerning allegations of conspiracy to intercept phone voicemail messages and conspiracy to pervert the course of justice.
"After careful consideration it has been decided that there is insufficient evidence for a realistic prospect of conviction."
'Aggressive culture'
Edmondson had been in the dock for the start of the eight-month trial which ended with his former boss Andy Coulson being jailed for 18 months in July. But he was excused after 29 days due to ill health.
On Friday, Edmondson, of Raynes Park, south-west London, admitted conspiring with colleagues and private detective Glenn Mulcaire to intercept private voicemails between 3 October 2000 and 9 August 2006.
Mr Justice Saunders remanded Edmondson on conditional bail but warned him "not to read anything into that".
Edmondson had worked at the News of the World in the 1990s and rejoined in 2004, being promoted to news editor a year later.
In 2010, he was suspended when emails emerged implicating him in phone hacking, and he was sacked in 2011.
The three emails, handed to the Metropolitan Police by News International, triggered the phone hacking investigation, Operation Weeting.
The emails, between Edmondson and Mulcaire, contained the mobile numbers, voicemail numbers and mobile phone pin numbers for former culture secretary Tessa Jowell, an aide to the then deputy prime minister John Prescott and Lord Freddie Windsor.
During Friday's hearing, prosecutor Mark Bryant-Heron QC outlined how Edmondson had become involved in "systematic phone hacking".
"There was an aggressive news-gathering culture. The ends seemed to justify the means to get the story in an extremely competitive market," he said.
The court heard Edmondson tasked Mulcaire with hacking some 334 times.
Phone records show that between July 2005 and August 2006 there were 900 calls and texts between Mulcaire and Edmondson, demonstrating their "close working relationship", Mr Bryant-Heron said.
In 2006, Edmondson received an email from Coulson which read "do his phone" - evidence of an attempt to hack the phone of celebrity Calum Best, the phone hacking trial had heard.
It also emerged during the trial that Edmondson had hacked the voicemails of Coulson and former NoW editor Rebekah Brooks.
'Direct instruction'
Defending Edmondson, Sallie Bennett-Jenkins QC said her client was working "under the direct instruction from senior executives to use Mulcaire".
In July, Coulson was found guilty of the hacking plot, while Mrs Brooks was found not guilty of conspiracy to hack voicemails, two counts of conspiracy to pay public officials and two counts of conspiracy to pervert the course of justice.
Former NoW managing editor Stuart Kuttner was found not guilty of conspiracy to hack phones.
Mulcaire, who had previously admitted to his role in plotting to intercept voicemails, was sentenced to six months in prison, suspended for 12 months, plus 200 hours unpaid community work.
He had already served a sentence in 2006 when he was first convicted of phone hacking with ex-royal editor Clive Goodman.