Question Time apologises over Alice immigration debate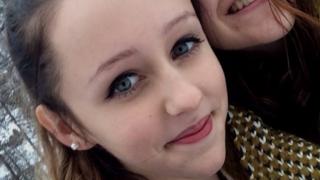 The BBC's Question Time has apologised to the family of Alice Gross after her sister said it was "horrible" to feature a question linking the 14-year-old's murder to immigration.
Nina Gross said it was "extremely insensitive" to use her "family's grief for political agendas".
Latvian Arnis Zalkalns was named as a suspect by police before Alice's body was found on Tuesday.
Alice was last seen on 28 August after leaving home in Hanwell, west London.
On Thursday's programme an audience member asked whether the right to "freedom of movement across EU borders" should apply to "convicted criminals".
Zalkalns served seven years in prison in his homeland for killing his wife Rudite.
'Time of grief'
Nina Gross wrote on Twitter: "It is extremely insensitive to use my family's tragedy for political agendas and discussion. This is a time of grief for our family."
She added: "This is a personal tragedy which we want to deal with privately, rather than fearing anyone using it for any political agenda."
In later posts directed at BBC Twitter accounts, she said: "It is really insensitive and horrible that you have used our family's tragedy on Question Time."
Following the programme, a post from the show's Twitter account said: "Dear Nina, we're sorry to hear this. We're really sorry for any hurt or offence caused by tonight's programme."
And on Friday the BBC issued a statement which reiterated its "profound apologies" to the family.
"Question Time is a topical discussion programme and we recognise the considerable public interest in the issues surrounding this tragedy," the statement said.
"We applied careful and due consideration to our choice of question and attempted to deal with this matter as sensitively as possible. We will of course reflect on the family's comments."
During the programme presenter David Dimbleby said "a number of questions" had been submitted to the panel referring to the "hideous murder of Alice Gross".
Alice's body was found in the River Brent following a huge police search.