Jury rejects Breaking Bad poison murder plot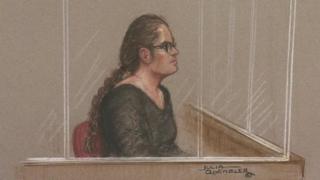 A woman has been acquitted of trying to poison her mother in a Breaking Bad-inspired plot.
Kuntal Patel, 37, had denied trying to murder her magistrate mother Meena Patel by putting abrin in her drink.
The jury found Patel guilty of acquiring a biological agent or toxin. She will be sentenced on 7 November.
Southwark Crown Court heard she had been angry with her mother, who "forbade" her from marrying her US-based boyfriend.
Fantasised about killing
Patel, of Plaistow in east London, said she contacted a US site on the "dark web" and talked about needing a "tasteless" and deadly toxin to get her mother "out of the way".
The court heard Mrs Patel, who sits on the bench at Thames Magistrates' Court, was "hell-bent" on breaking up her daughter's relationship.
She locked Patel in their home, beating and bullying her in a bid to get her to stop seeing Niraj Kakad, jurors were told.
Patel, a Barclays Bank graphic designer who volunteered at the London Olympics, admitted fantasising about killing her.
She told jurors: "It was as if I was thinking through it as if I was in my own TV programme or a character in Breaking Bad.
"I was in a really strange place in my mind."
---
What is abrin?
Said during the case to be "much more poisonous" than ricin
Dangerous if inhaled or if it enters the bloodstream
Adding the abrin to Diet Coke may have helped deactivate it
Source: Prof David Osselton, Bournemouth University
---
The two-week trial heard that Patel, who was brought up a strict Hindu, had never had a boyfriend or a Valentine's Day card, and was desperate to settle down and have children.
She struck up a relationship with Mr Kakad, who lived in Phoenix, Arizona, on the Asian dating website Shaadi.com.
The pair became engaged on Thanksgiving in November 2012 but their relationship later broke up.
The poison was allegedly hidden in a red wax candle and delivered to London.
Patel said she "panicked" when she picked the package up and threw it away.
The jury of six men and six women deliberated for just over three hours.