Ebola crisis: Aid workers risking all to combat virus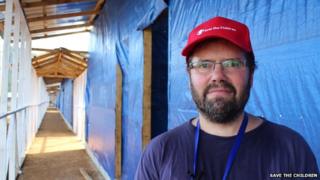 The Ebola crisis is spreading rapidly. In Sierra Leone alone, five new cases are reported each hour. Yet despite the risks, UK aid workers and volunteers are heading in increasing numbers to west Africa to battle the epidemic.
"It was a real wake-up call," says Save the Children's emergency response adviser Mark Buttle. "It was my first visit there and I was quite worried when I got on the plane."
Mark has just returned from Sierra Leone, where he'd gone to supervise the building of a new treatment centre for victims of the Ebola virus. He was well aware of the facts and figures of the epidemic. But it was only when he got there that the reality of the situation hit home.
"What moved me the most," he says, "was seeing a funeral where I saw a father carrying his child to the graveside. The father was putting his life at risk just by showing that love and taking his child to bury her. It was awful."
Mark was part of a team providing technical advice for the construction of the treatment centre, which will be able to care for up to 92 people suffering from the disease.
It's badly needed. There are only 327 beds for Ebola patients in a country where 765 new cases of Ebola were reported just last week.
The authorities in Sierra Leone are well aware of the urgency with which new facilities must be provided. This centre was built in just two months.
"The Sierra Leone government have done an amazing job," Mark says. "They've built it from scratch. I've never seen construction like it, they've been working 24/7 to get it up and running."
It will be staffed by local health workers and volunteers from abroad. Many from the UK are already working in Sierra Leone, including clinicians, public health experts and Ministry of Defence staff.
Last month, 400 NHS workers answered an appeal for volunteers to travel to the country and help combat the crisis.
Mark reassures those set to make the journey that, with care, they should not be in great danger. "A well-managed centre can be a very safe environment," he says, "You need to remember the basics - move slowly, think, wear safety gear."
Save The Children has reinvented its entire safety regime too, with carefully followed procedures, risk assessments, and check-ups upon workers' return to the UK.
Mark says: "We have chlorine hand washes outside the offices, all the drivers carry a chlorine spray so you can use that on your hands before you get in their car. I was probably washing myself with chlorine about 10 to 12 times a day.
"There's a new saying in Sierra Leone now - Chlorine Is Your Friend."
He adds: "We stopped shaking hands with each other, to reduce the amount of contact. But how do you stop a friendly people like the Sierra Leoneans from normal human interaction, hugging and so on?"
However, it wasn't the prospect of catching the Ebola virus that concerned him most.
'More dangerous'
He says: "I was very worried about catching something that looks like Ebola, a disease like malaria with much of the same early symptoms, and then being put into isolation as a result. Avoiding things like stomach bugs became a major priority."
And he had reason to worry. Medical staff know they have a high risk of coming into contact with the Ebola virus, and as a consequence other illnesses and conditions are going untreated.
"One of the main problems is that health workers in the affected areas are scared to come to work," Mark warns. "If you have malaria, people don't want to treat you. If you need surgery, no-one will operate on you. If you're a pregnant woman needing a Caesarian, you're practically dead."
Ebola deaths
Figures up to 13 January 2016
11,315
Deaths - probable, confirmed and suspected
(Includes one in the US and six in Mali)
4,809 Liberia

3,955 Sierra Leone

2,536 Guinea

8 Nigeria
Getty
Mark returned from Sierra Leone last week to the great relief of his family. "I saw my mum and dad at the weekend," he says, "and I think they were pretty glad to see me back safe."
But he will return to the country in a few days' time to help train the new treatment centre's staff and, in his words, "make sure its hygiene rules are implemented to the letter".
He'll stay to see it open its doors in late October. He warns that it can't open soon enough.
'Out of control'
"There are not enough treatment centres," Mark says. "With lots more beds, we can stop this disease progressing, but the longer we leave it, the worse it will get."
The British government has already pledged to provide 700 more beds in Sierra Leone, and on Wednesday announced an extra £20m in aid to provide vital medical supplies including water and sanitation facilities, chlorine, and protection equipment including special masks, suits and gloves.
Mark welcomes the move but warns that other countries need to step up their efforts as well.
"It's really good that the British government has got behind efforts to combat Ebola in Sierra Leone, and the US too in Liberia," he says, "but we need other governments to help out. It's gone beyond money, we need the big players to come in and stand alongside us on the ground.
"We are at a junction. If we don't act now it will spiral out of control."
---
Ebola virus disease (EVD)
Symptoms include high fever, bleeding and central nervous system damage
Spread by body fluids, such as blood and saliva
Fatality rate can reach 90% - but current outbreak has mortality rate of about 70%
Incubation period is two to 21 days
There is no proven vaccine or cure
Supportive care such as rehydrating patients who have diarrhoea and vomiting can help recovery
Fruit bats, a delicacy for some West Africans, are considered to be virus's natural host
---