Thousands of under-18s caught drink-driving, records show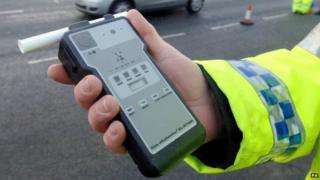 Thousands of under-18s have been caught drink-driving, police records show.
Records released by 43 UK police forces in response to a Freedom of Information request show 6,558 people aged under 18 were caught driving under the influence of alcohol between 2008 and 2013.
The figures, obtained by in-car camera provider Nextbase, found the youngest offender was aged 11, in the Thames Valley in 2011.
The government said drink-driving laws were being strengthened.
The records show that an average of five under-18s were caught drink-driving each week. Some of those under 18 were driving without insurance and a quarter were 16 or younger.
A Department for Transport spokesman said: "Under-age driving is illegal and no person under the age of 17 should be driving a car. We have tough laws in place to tackle those caught driving without a licence.
"Drink-driving is a menace that costs lives, and the government is strengthening the law to help police crack down on this problem."
Hotspots
The total number of under-age drink-driver incidents has fallen slightly year-on-year - Merseyside and Devon and Cornwall saw the greatest fall between 2012 and 2013.
However, a number of areas including North Yorkshire, West Mercia and Staffordshire saw an increase between 2012 and 2013.
The records showed the most severely affected region for under-age drink driving in England was Greater Manchester, where 409 people were arrested, including a number of 12-year-olds.
Other hotspots included Scotland, with 718 offenders, Hampshire (276 offenders), Devon and Cornwall (241) and Sussex (160).
Breakdown of figures by force
Force
Arrests of under-18s 2008-13
Arrests of under-16s 2008-13
Youngest offender & year of offence
Greater Manchester
409
144
12 yrs old 2008
West Midlands
131
20
14 yrs old 2010
Thames Valley
159
38
11 yrs old 2011
Sussex
160
46
14 yrs old 2012
Hampshire
276
74
14 yrs old 2008, 2009 and 2011
Kent
96
17
15 yrs old 2011
Staffordshire
31
10
13 yrs old 2010
West Mercia
75
22
15 yrs old 2008
City of London
1
0
17 yrs old 2010
North Wales
149
21
14 yrs old 2008 and 2009
Cleveland (2013 only)
4
0
17 yrs old 2013
Metropolitan Police (2013 only)
26
5
16 yrs old 2013
Derbyshire (2012 and 2013 only)
28
6
15 yrs old 2012
Police Scotland
718
208
12 yrs old 2012
Merseyside
86
22
14 yrs old 2010
South Yorkshire
75
16
14 yrs old 2013
Northumbria
99
21
14 yrs old 2010
Cumbria
91
31
14 yrs old 2009 and 2011
Devon and Cornwall
241
53
15 yrs old 2011
Norfolk
68
17
14 yrs old 2011
North Yorkshire
104
29
15 yrs old 2013
West Yorkshire
165
40
14 yrs old 2010 and 2011
Suffolk
69
14
15 yrs old 2010 and 2011
Surrey
59
10
16 yrs old 08,09,10 and 12
Cambridgeshire
37
12
15 yrs old 09, 10 and 11
Gloucestershire
44
8
15 yrs old 2013
Hertfordshire
83
23
14 yrs old 2008
Lancashire (2010-13)
94
32
13 yrs old 2010
Leicestershire
84
28
15 yrs old 09, 10,12 and 13
Lincolnshire (2010-13)
41
13
15 yrs old 2010 and 2013
Northamptonshire
65
12
15 yrs old 2008
Nottinghamshire
139
36
14 yrs old 2009 and 2012
Avon and Somerset
130
31
13 yrs old 08,10, 11 and 12
Warwickshire
21
4
16 yrs old 2009
Northern Ireland
412
131
15 yrs old 2008, 2009, 2010, 2011 and 12
Gwent
75
19
15 yrs old 2008, 2009 and 2013
South Wales
219
59
13 yrs old 2010
Dyfed-Powys
50
15
15 yrs old 2008 and 2013
Bedfordshire
69
11
15 yrs old 2011
Cheshire
136
35
14 yrs old 2009
Durham
296
72
14 yrs old 2009
Humberside
72
24
15 yrs old 09, 10 and 11
Wiltshire
53
19
14 yrs old 2010