UK funds new Ebola triage clinics in Sierra Leone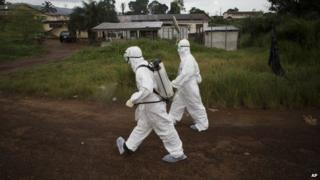 Pilot triage clinics are being funded to help tackle the Ebola epidemic in Sierra Leone, UK officials have said.
The idea of the clinics is to test whether people with a fever have Ebola or a less serious bout of malaria.
The clinics will be established in areas where the disease is worst, as the UK pledges another £20m in aid.
More than 3,000 people have been killed by the virus, which causes internal bleeding, across Sierra Leone and its neighbours Guinea and Liberia.
Hospital beds
Officials hope the clinics will encourage people to come for a test rather than stay at home, possibly spreading Ebola to members of their family.
But there is another less positive reason for piloting the clinics.
It has simply not been possible, with the resources available, to establish the thousands of full-treatment centre hospital beds which aid workers have said are necessary across the west African region.
Britain said it would build facilities for 700 new beds in Sierra Leone but the first of these will not be ready for weeks, and the rest may take months.
Whitehall officials said that across the three countries worst affected by Ebola - Sierra Leone, Guinea and Liberia - it is possible that 1.5 million people could have been infected by the end of the year, with most of them dying.
BBC international development correspondent Mark Doyle says aid workers are battling desperately to try to stop that happening.
It comes as the UK government has pledged another £20m in aid - on top of the £100m already committed - to help health services in Sierra Leone in the fight against Ebola.
The extra money will go towards providing vital medical supplies including chlorine, personal protection equipment such as masks, protection suits and gloves, and essential water and sanitation facilities.
It will also help to deploy medical experts on the ground.
'Unwanted and abandoned'
International Development Secretary Justine Greening said: "Britain is working urgently with Sierra Leone to scale up the international response to the disease.
"Last month Britain pledged to support 700 treatment beds in Sierra Leone, but keeping basic public health services running is vital to halt the spread of the disease.
"Our latest support will allow stretched medical staff and aid agencies to prevent further infection."
More than 160 NHS staff have expressed interest in going to help out in Sierra Leone after an appeal was made for volunteers to help deal with the crisis in the country.
Children's organisation Unicef said many children who had lost their parents to Ebola were being rejected by their relatives because of the fear of infection.
Manuel Fontaine, Unicef regional director for West and Central Africa, said: "Thousands of children are living through the deaths of their mother, father or family members from Ebola.
"These children urgently need special attention and support, yet many of them feel unwanted and even abandoned.
"Orphans are usually taken in by a member of the extended family but in some communities the fear surrounding Ebola is becoming stronger than family ties."