Optical Express may challenge laser surgery ruling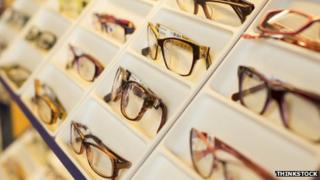 Optical Express is considering an appeal after it was ordered to pay one of its customers £500,000 in damages.
Stephanie Holloway, from Lee-on-Solent, Hampshire, sued the optician when laser surgery left her eyes so sensitive she had to wear dark glasses and live by candle light at home.
The 28-year-old said she had not been told of the risks of the procedure.
A spokesman for the high street chain said it was "extremely disappointed" by the verdict.
Central London County Court heard how Optical Express put Miss Holloway under covert surveillance in an attempt to disprove her claims.
Depressed and paranoid
She had gone to the optician in 2008 for laser surgery to correct her short-sightedness.
But after the operation left her with hazy vision, the court heard, her career as a book dealer collapsed.
Judge Edward Bailey said there was "absolutely no way" Miss Holloway had been properly informed of the risks and possible complications associated with the surgery.
The company said all procedures carried a risk, but insisted it used the "very latest technology" and the "most experienced surgeons".
"Our excellent clinical outcomes clearly demonstrate that our patients are in good hands," a spokesman added.
Miss Holloway had sued for pain and suffering as well as loss of earnings.
Optical Express, which describes itself as the UK's largest laser surgery provider, hired a private detective to film her for three days - while she was out shopping and through the windows of her home.
The court was told she did not remove her glasses at any point.
Judge Bailey awarded Miss Holloway damages of £569,000, mostly for loss of earnings.
He said she had become depressed and paranoid about going blind.
"We are extremely disappointed by the verdict," the company's spokesman said.
"[We] will be exploring the options for further legal action relating to the case."