Counter-terror police arrest two men on M6 motorway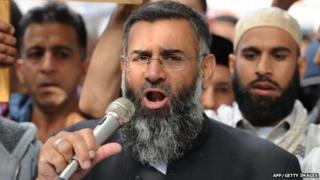 Police have arrested two more men on the M6 near Rugby in Warwickshire as part of an investigation into Islamist-related terrorism.
A 33-year-old and a 42-year-old are being held at a police station in London following their arrest in the early hours of Friday morning.
Nine others, including radical Islamic preacher Anjem Choudary, are in custody after being arrested on Thursday.
Searches are continuing at 18 addresses in London and one in Stoke.
In a statement, the Metropolitan Police said the 33-year-old was arrested on suspicion of being a member of, and supporting, a proscribed organisation contrary to the Terrorism Act, and encouraging terrorism.
The 42-year-old was arrested on suspicion of assisting an offender.
The Met said the arrests were part of an ongoing inquiry into Islamist-related terrorism and not in response to any immediate threat to the public.
Police said a number of residential, business and community premises are being searched.
The arrests were carried out by the Met's Counter Terrorism Command (SO15).