Mick Cash elected general secretary of RMT union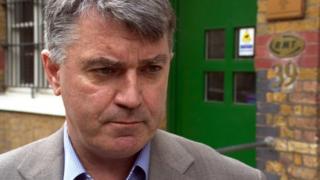 Rail, Maritime and Transport Union acting general secretary Mick Cash has been elected its leader following the death of Bob Crow in March.
The 54-year-old, who was Mr Crow's deputy for 12 years, said he was "proud and honoured" to be given the "enormous responsibility".
Mr Cash beat four other candidates to become general secretary of the union.
He has been a member of the RMT, and its predecessor the National Union of Railwaymen, for 35 years.
Mr Cash thanked RMT members for giving him an "overwhelming mandate" and said the union was "in fighting shape".
He said: "I am proud and honoured to have been given the enormous responsibility of now taking our fighting and militant union forwards, six months after the bitter loss to the Labour movement of Bob Crow.
"Let me make this clear. There will be no deviation from the industrial, political and organising strategy mapped out by RMT under Bob's leadership.
"Our fight on pay, jobs, working conditions, pensions and safety continues on every front and in every industry where we organise members."
'United and determined'
Mr Cash, who worked as a railway engineer before becoming a union official, thanked the other candidates for a "comradely and hard-fought campaign".
He added: "RMT stands united and determined in the on-going struggles we are engaged in on London Underground, on the railways, offshore, in the shipping industry and on the roads and buses.
"This union is in fighting shape for the battles that we know lie ahead."
Mr Crow died of a suspected heart attack on 11 March.
He had been elected general secretary of the RMT in 2002 following the death of former leader Jimmy Knapp.
Under his leadership, the RMT's membership increased by more than 20,000 to 80,000.
Earlier on Monday, the RMT announced plans for an overtime ban on the London Underground as part of its campaign against Transport for London plans to close all ticket offices and cut about 900 jobs.
The ban will take effect from a minute past midnight on Wednesday.