Thai police expand DNA tests to find tourists' killers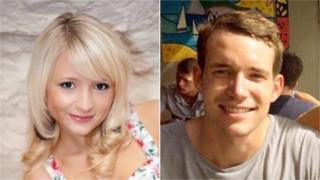 Thai police are expanding DNA testing on the island where two British tourists were murdered last week.
Hannah Witheridge, 23, and David Miller, 24, were found dead on Koh Tao on 15 September.
Police say they want to test every male on Koh Tao, including fishermen and boat drivers who may have visited the island at the time of the killings.
Initial tests show DNA samples found on the bodies almost certainly came from two Asian men.
However, police believe at least three people were involved in the attack.
Rewards offered
The BBC's Jonathan Head in Bangkok said the police have been stung by criticism of their performance and are now throwing resources at the investigation.
Marine police have been sent to check fishing boats operating around Koh Tao and officers are checking reports the British pair had been arguing with some local men in a bar shortly before they were killed, he said.
He added that residents on the island had raised about £15,000 as a reward for information leading to a conviction.
Thai police are also offering a reward of about £4,000 for information leading to arrests, and some 150 officers have been deployed on the island.
There are usually five police officers on the small island of Koh Tao, which has a population of about 2,100. However, it is visited by between 400,000 and 500,000 travellers every year.
According to post-mortem examinations, Ms Witheridge, from Great Yarmouth, Norfolk, died from head wounds while Mr Miller, from Jersey, was killed by severe blows to the head and drowning.
A bloodstained garden hoe, believed to be the murder weapon, was found nearby.
The body of Ms Witheridge has been brought back to the UK. Her family released a statement, saying they were "broken" by her death.
"As a family we feel enormous relief to have Hannah back at home where she belongs," they said.
"We continue to work closely with officers to assist in the investigation and bring those responsible to justice.
"Our family is broken and require time to grieve in private - as do Hannah's many friends."