Does north-east England need its own Alex Salmond?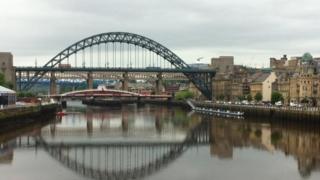 The Scottish referendum has lit a fire under the debate about how to share power across the UK. What can north-east England get out of it?
Just two hours after it became clear a majority of Scots had rejected independence, Prime Minister David Cameron appeared in front of Number 10 to tell the country that it has "a great opportunity to change the way Britain is governed", and that the voice of England in particular is a "crucial part" that had been "missing" from the debate.
A poll by ComRes carried out for ITV Tyne Tees suggested over half of people in the North East want more powers for the region, and a similar proportion believe their area will be worse-off as a result of more devolution to Scotland.
On the first Saturday after the referendum, it's fair to say football is ahead of politics in most people's minds. Nonetheless, people out shopping in Newcastle city centre are not short of opinions.
Does the North East agree things need to change, and what kind of change do they want to see? Here are five suggestions.
1. A northern committee
Janet and Paul Rial are here for the day from Hull to watch the football, and see it as a problem affecting not just Newcastle but the whole of northern England.
"We're caught between two stools if you like," says Paul. "So much goes to the south and London, and now more powers will go to Scotland. Where does that leave the north? We get left out of the picture."
They have a novel prescription: there should be a committee of representatives from the north who discuss local concerns and feed those back to Westminster.
"But it shouldn't be in one place, because then you'd just get Manchester or Liverpool being the 'Westminster' of the north - it should travel around."
2. Another referendum
Linda and Harry Alderson, who are both retired, recall the referendum on a regional assembly for the north east which yielded a "No" vote in 2004.
"We voted 'No' then because it just seemed like another layer of bureaucracy, and the powers on offer weren't up to much.
"But things have moved on since then - Scottish people have got a lot for themselves through this campaign and you think, 'why can't we have that?'"
If there were another referendum tomorrow on devolution to the north east, they both say they would vote, and they would vote "Yes".
A nearby shopper, a Mrs Wilkins, in her 70s, agrees: "The time is ripe for it," she says.
The idea seems to be catching. Another woman who wants to remain anonymous says she would vote "Yes" if another referendum were held.
3. A Salmond figure
Paul Banks, 41, a taxi driver, says what the north east is lacking is a "Salmond figure to champion our priorities".
"Alex Salmond is a 'Marmite' politician - but love him or hate him, he's been a strong voice for Scotland and you feel that's what we're lacking. None of the local MPs stand out. This area's so tribally Labour it's like they don't really have to try."
Couple Dave and Ashley Lambert, 35 and 29, can see the appeal. "It'd have to be someone charismatic, someone who knows how to talk to people," Dave argues.
He immediately volunteers Alan Shearer for the job, but later appears to think better of it, saying, "he probably doesn't know much about politics".
Ashley, who's originally from California, says she's wary of mixing celebrity and politics - "it didn't work out too well with Arnold Schwarzenegger".
"In America, they're used to the idea that you make local decisions at a state level, and bigger decisions at a national level. We could do with more of that."
The Rials, who came up with the idea of the northern committee, are not sold on charismatic leadership. "It'd have to be something that comes from the people."
4. Change the voting system
In the shadow of Grey's monument, erected to commemorate Charles Grey's role in the passage of the Great Reform Act, Elizabeth Veal from Tynedale is having lunch with daughter Bethany, who's 15.
"I think the reason why so many people turned out to vote in Scotland is because they knew their vote would count," says Elizabeth.
"More people would relate to their local MPs if they felt everyone's vote counted the same."
In that sense Elizabeth thinks 2011's referendum on an alternative vote system may have been "a missed opportunity" and there could be "more appetite for it now, after people getting so involved in Scotland".
Bethany says she'd be in favour of lowering the voting age to 16 but only if there were more on offer in schools to educate young people about politics.
"I know about the House of Commons and how laws are passed but only because I've picked it up at home. We don't get anything like that at school."
5. English votes on English laws
In Newcastle Central Station, Dennis Wheeler, a climate change scientist from Sunderland, is catching up with his friend Rowan Brewer, a debt support worker.
Their views differ from those of some other Geordies as they don't think there is much of a case for devolving more power to the region.
"This area isn't well represented by Westminster, but it's the same thing with any Labour-voting area under a Conservative government. It's a political distance, not a geographical one."
He does believe, however, that the referendum has opened a "constitutional can of worms".
He says of Cameron's pledge regarding English MPs voting on English laws: "Great idea, what about the House of Lords? They don't have constituencies but they do have some law-making powers. In principle, it's a nice idea. In practice I don't know if it would work."
He sees potential to capitalise on the level of interest in the referendum with the general election next year and the possibility of an EU referendum after that.
"It might be a mess, but it's a democratic mess," he points out.
Rowan agrees it's been a wake-up call that means "we can no longer stumble along in this semi-ignorant bliss that the constitution is OK".