Court to decide on domestic abuse legal aid challenge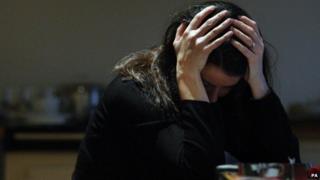 The High Court is due to decide whether to allow a challenge to rules that determine whether victims of domestic abuse get legal aid in family cases.
Campaign group Rights of Women claims many are unable to provide the evidence required to qualify for funding.
The group says as a result they take no legal action and remain at risk of further violence and even death.
The government says thousands of people have successfully applied for legal aid where domestic violence is involved.
Rights of Women says legal aid changes introduced by the government in April last year require victims of domestic violence to provide a prescribed form of evidence.
Funding removed
For example, evidence that the abuser has accepted a caution for domestic violence within the last 24 months.
Family cases include those involving divorce and child access.
Legal aid helps with the costs of legal advice for people who cannot afford it.
The Legal Aid, Sentencing and Punishment of Offenders Act, which came into force in April 2013, removed funding from entire areas of civil law, including private family law.
But family law cases involving domestic violence, forced marriage or child abduction continued to be funded.
The government says legal aid must be available to people who have suffered, or are suffering, domestic violence.