Most freed prisoners 'lacking home and job'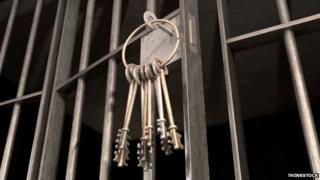 Only one in six of prisoners in England and Wales have both somewhere to live and a job or training arranged when they are released, inspectors suggest.
A joint inspection into resettlement provision for adult prisoners followed 80 offenders when they left prison.
Chief Inspector of Prisons Nick Hardwick said it found the role of a prisoner's family in their resettlement was being overlooked.
It was carried out by Ofsted and the prisons and probation inspectorates.
The inspection said family relationships were too often seen as a matter of "visits which could be reduced or increased according to an offender's behaviour".
'Rebuild relationships'
Only 16% of the prisoners were found to have had lined up both employment or training and somewhere to live on the day they were released.
The inspection found more than half returned home or moved in with family or friends when they were released.
But the few who had arranged a job had been helped by previous employers, family or friends, inspectors said.
Speaking on behalf of all the inspectorates, Mr Hardwick said the report "absolutely confirms the central importance of an offender's family and friends to their successful rehabilitation".
"Sometimes an offender's family may be the victims of their crime and sometimes they may be a negative influence," he said.
"However, overwhelmingly, this inspection confirmed our view that an offender's family are the most effective resettlement agency.
"Where possible resettlement work should include helping the offender and his or her family maintain or rebuild relationships, an assessment of the support a family is able and willing to provide and, where appropriate, involvement of the family in plans for release."
Justice Minister Andrew Selous said it was "crucial that offenders have the right support in place when they are released".
He said reforms to rehabilitation will see greater support for offenders, including those on short sentences who currently get no statutory supervision on release and have the highest re-offending rates.
He said the government was "creating a nationwide network of resettlement prisons that will mean, for the first time, the vast majority of offenders will be held and released into the area where they will live and be supervised".
Mr Selous added: "I strongly believe that families have an important role to play in helping offenders turn their backs on crime, and these reforms will be crucial in enabling families to play their full role in the resettlement process."