Scottish independence issues at-a-glance: Citizenship and immigration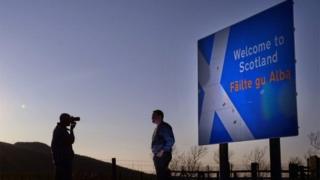 What powers does the Scottish Parliament currently have and how might they change with independence or further devolution?
This page summarises the implications of the referendum for citizenship and immigration - one of seven different themes. The others are: The economy and currency, energy oil and gas, EU membership, pensions and welfare, defence and broadcasting.
More in-depth analysis on citizenship and immigration.
---
At present
Holyrood has no powers over citizenship or immigration policy.
---
After a Yes vote
The Scottish government argues immigration policy agreed at Westminster does not suit Scotland's needs, pledging to take in more refugees and to "welcome people who want to come to work and live in Scotland".
It has pledged:
The Scottish borders would remain open to all EU nationals, as it would be an EU member.
A Scottish Asylum Agency would be established to oversee applications.
Dungavel Detention Centre in Lanarkshire would be closed and dawn raids would be ended.
British citizens resident in Scotland would be Scottish citizens.
Citizenship by descent would be available to those whose parent or grandparent qualifies for Scottish citizenship.
Dual citizenship with the UK would be permitted.
UK passports would be recognised until they expiry.
Conservative Home Secretary Theresa May has refused to rule out border controls between England and Scotland and Labour leader Ed Miliband has said they should be considered.
---
After a No vote
Better Together's Alistair Darling says: "Only a minority of Scotland's people see themselves as Scottish only. The vast majority acknowledge their British identity as well."
The Labour Party says:
Immigration should remain reserved.
The Conservative Party says:
The Conservatives do not address this theme explicitly in their devolution report.
The Liberal Democrats say:
A federal United Kingdom government would retain major areas of competency including immigration.
---
The policies under independence are taken from the Scottish government's White Paper on independence. Yes Scotland and other Yes campaigners do not necessarily share these positions.
Where Better Together has a stance, this has been cited. The separate Labour, Conservative and Lib Dem proposals are taken from their respective reports on devolution.
Both sides' preferred policies would be subject to negotiations following the referendum.
The Scottish government has said that following a Yes vote, arrangements would be in place for full independence from 24 March 2016.
The Better Together campaign has said that following a No vote draft legislation on devolution would be introduced by the end of January 2015.
---
---