Benefits streets 'a myth', university study claims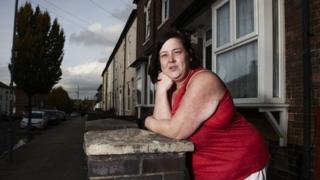 "Welfare ghettos" with whole streets where nobody works are a myth, a study by university academics claims.
Benefits streets, where generations of families look at unemployment as their preferred way of life, "simply don't exist", it says.
Researchers examined two districts, in Middlesbrough and Glasgow, with high rates of deprivation.
A government spokesman rebutted the academics' allegation it used talk of "ghettos" to justify welfare reforms.
It comes as the second series of Channel 4's Benefits Street is filmed in Dixon Street, Stockton, Teesside.
The paper was written by professors from Teesside, Glasgow and Leeds universities.
Professor Rob MacDonald of Teesside University said: "Even with these extreme cases, the majority of local people of working age were not on unemployment benefits.
"This is a far cry from the situation where an entire community sits on benefits for life."
'Trapped' by system
The academics said tabloid headlines reporting 90% of residents in Birmingham's James Turner Street, where the first series of Benefits Street was filmed, received hand-outs were inaccurate.
They pointed to statistics which instead showed 62-65% of households there had somebody in employment.
Professor MacDonald said: "The idea of 'benefit ghettos' where unemployment is a 'lifestyle choice' is a powerful one that helps justify the government's cuts to welfare budgets.
"Yet our research has demonstrated this is a myth."
The project was funded by the Joseph Rowntree Foundation, a social research charity. A total of 47 people from 20 families took part.
A Department for Work and Pensions spokesman said: "Sadly, joblessness isn't a myth - in 2010, the number of families with no-one working peaked at over 3.9 million.
"Latest figures show that this has fallen by 450,000, suggesting we were right to implement a radical overhaul of the welfare system.
"We are very careful about the language we use - making it clear that it is very often the system itself that has trapped people on benefits."