Prince Charles 'hoping next royal baby will be a girl'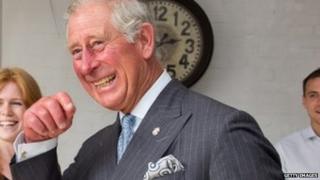 The Prince of Wales is hoping his second grandchild will be a girl, he has revealed.
Prince Charles described the news that the Duke and Duchess of Cambridge were expecting another child as "splendid".
The future king said he was excited and looking forward to the birth.
It comes after Kensington Palace confirmed on Monday that Catherine was pregnant and suffering from severe morning sickness - as she did when she was expecting Prince George.
Prince Charles confessed he was hoping for a granddaughter after having two sons and a grandson so far.
"It's wonderful to be a grandfather again," he said, as he visited the studio of a young entrepreneur who has been helped by the Prince's Trust.
"I'm looking forward to it - but I hope it will be a girl this time."
'Very excited'
Entrepreneur Demi Owoseje opened up her leather upholstery studio in Bermondsey, south London, for the royal visit.
She gave Charles a demonstration of her technique in renovating a dilapidated chair, and her family questioned him about the next royal baby.
Miss Owoseje's sister Toyin, 26, and her mother Elizabeth, 50, congratulated Prince Charles on the pregnancy, who answered: "What did I do?"
He added: "It hasn't arrived yet - (but) splendid, we're very excited."
The entrepreneur's mother said after meeting the prince that she asked him how he felt about becoming a grandfather for a second time.
"He asked me if I had any grandchildren. [I said] not yet, my daughter's too busy with her business," she said.
"He said the baby was part of life's experiences and he seemed quite happy about it."
The Duke of Cambridge said during a visit to Oxford University on Monday that he and the duchess were "thrilled" to be expecting their second child, who will be fourth in line to the throne.
He revealed it had been a "tricky few days" but that Catherine was "feeling OK".
The duchess had been due to accompany Prince William on his visit, but the palace said her sickness meant that she would no longer be attending and was being treated by doctors.
The duchess's first pregnancy was revealed when she was just a few weeks pregnant with Prince George after she was admitted to hospital suffering from severe sickness in December 2012.
The sickness - called hyperemesis gravidarum - is a condition that may require supplementary hydration, medication and nutrients.
It affects 3.5 per 1,000 pregnancies, causes severe vomiting and can lead to dehydration, weight loss and a build-up of toxins in the blood or urine, called ketosis.