Prince Harry says he 'feels old' ahead of 30th birthday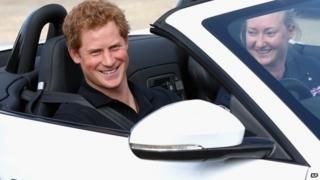 Prince Harry has said he is "starting to feel old" ahead of his 30th birthday next week.
He made the comment at a "curtain raiser" event for the Invictus Games, which he has been involved in organising and start on Wednesday.
The games are a sporting competition for wounded servicemen and women from 13 countries.
But the prince, who turns 30 on 15 September, also said he sees himself as "always young at heart".
He made the remarks at the Jaguar Land Rover site in Gaydon, Warwickshire, where a driving challenge event was taking place as a precursor to the games.
After handing out medals to competitors from Australia, Germany and Holland he said he would probably be celebrating his birthday by getting involved in Invictus Games in some way.
The royal likened the feeling of anticipating his 30th birthday to seeing a 30mph speed limit sign as you enter a village getting closer and closer.
He said: "I'm slowly starting to feel old... I'm actually quite old.
"I think I am always young at heart. Surrounding myself with these guys and girls does keep me young. They're sharp-witted and their sense of humour is on it."
Prince Harry admitted he had had some "sleepless nights" in the run-up to the games, which are his brainchild and based on a similar idea to the Warrior Games in the US.
He said the idea was there for the taking, and added: "The Americans made it, I stole it, and we made it bigger."
During his visit to Jaguar Land Rover he was also given the chance to take a Jaguar F-Type for a spin.