Dave Lee Travis trial: Woman 'desperate' to escape, jury hears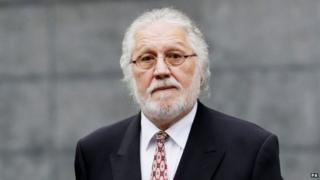 A woman has told a court she was "desperate" to get out of a dressing room where she was assaulted by former Radio 1 DJ Dave Lee Travis.
She said Mr Travis held the door shut and put his hand inside her trousers as they worked together on a production of Aladdin in the early 1990s.
She said the attack stopped when one of the children's entertainers known as the Chuckle Brothers spoke outside.
Mr Travis denies two counts of indecent assault and one of sexual assault.
He is being tried under his real name, David Griffin.
'Complete shock'
The woman, who cannot be named for legal reasons, told Southwark Crown Court the attack happened after she went into Mr Travis's dressing room.
"Dave Lee Travis was standing behind me with his hand on the door above my head, forcibly closing it," she said.
"He then put his hand down the front of my trousers."
She added: "It came as a complete shock. I was desperate to get out."
The woman, who was in her early 20s at the time, said she managed to open the door by a few centimetres and then heard a voice say: "All right, Dave."
Job fear
She said Mr Travis let go of the door and she realised the person who had spoken was one of the Chuckle Brothers, Paul and Barry Elliot, who had both been walking past.
The woman did not report the incident to the police until 2012 - more than 20 years after it allegedly happened.
She told the court she was worried at the time that she would not be believed and could lose her job.
"Dave Lee Travis was the star," she said.
"Accusing the main star in the show of doing something like that - how is that going to affect your career?"
She said she agreed with a male colleague that she would not return to Mr Travis's dressing room.
Mr Travis, 69, is being retried on two counts - one of indecent assault and one of sexual assault - after a jury failed to reach verdicts earlier this year.
He faces a further charge of indecent assault.
The counts relate to separate victims and separate incidents in 1990-91, 1995 and 2008.