Police force numbers should be cut, superintendents' leader says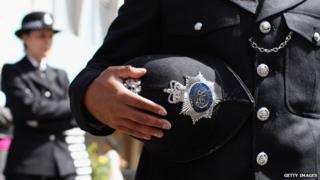 The number of constabularies in England and Wales should be cut to save money, a senior police leader has said.
Police Superintendents' Association president Irene Curtis said there were "too many chief constables and too many police and crime commissioners".
The 43-force structure wasted millions of pounds and had not been reformed for 40 years, she said.
Policing minister Mike Penning said forced mergers would reduce the quality of neighbourhood policing.
Ch Supt Curtis was speaking ahead of the association's annual conference in Warwickshire.
The former firearms commanding officer said: "It is increasingly obvious that we do not need 43 forces across England and Wales.
"Some forces are trying to address this by forming strategic alliances which means that they are virtually merging in all but name and senior leadership ranks.
"Current legislation prevents them from reducing the number of chief constables and deputy chief constables, but this is money that could be better spent on operational policing."
Last year Scotland's eight police forces were merged into one - a move the association says will save £1.1bn.
Ch Supt Curtis said people in Scotland had seen no "noticeable difference" in how they were policed locally.
"Local people are still policed by local officers," she said.
And she told BBC Radio 4's Today programme that local policing would actually benefit from a reduction of force numbers.
"It's the local policing that should be at the heart of any new model, so whatever new model is developed for police in the future, I think that it should start from the bottom, with local policing areas, commanded by local inspectors, superintendants.
"What I'm proposing, in terms of reducing the number of forces, will actually release money to reinvest in local policing instead of spending it on the large number of chief officers we currently have."
She later added that reducing the number of forces was "not a risk" but a sensible solution in the face of narrowing police budgets.
In England and Wales, the previous Labour government attempted to cut the number of forces by merging some of them, but the high initial costs and concerns about accountability led to the plan being scrapped.
Those proposals could have seen the number of constabularies cut by more than half, the association said.
Labour has since hinted it could revisit the plans.
A review of policing the party commissioned from former Met commissioner Lord Stevens said last year that the current model was "untenable".
But BBC home affairs correspondent Danny Shaw says ministers remain opposed to compulsory mergers, arguing the quality of neighbourhood policing would be hit and forces would become more distant from the communities they serve.
Force collaboration
Ch Supt Curtis, who will address the conference on Tuesday, said: "Some argue that the cost of restructuring forces would be too high, but in a future of reduced resources I think the opposite is true.
"We can't afford not to do this."
The president of the Association of Chief Police Officers, Sir Hugh Orde, said the current model of policing, designed in 1962, was outdated.
"The force boundaries that we have are invisible to criminals and terrorists and meaningless to the victims and citizens who we are charged with protecting," he said.
"A considered review of the current force structure is needed in order for police to effectively tackle the threats we face today and in the future. While there has been increased collaboration between police forces, this will never be as efficient or consistent as amalgamation."
Steve White, chairman of the Police Federation of England and Wales, said it had believed for some time that efficiency in the police service may be improved with a smaller number of forces.
"Mergers could aid procurement and provide forces with greater flexibility," he said.
"Forces are doing their best to protect their front line services but cracks are beginning to appear. In the absence of additional funding, some forces may need to consider merging as an option.
"However, any changes of this scale must be undertaken with proper public consultation and must not affect the level of service communities receive."
Communities 'distanced'
Mr Penning said that the current police reforms were working and that crime was falling overall.
"Chief constables and police and crime commissioners up and down the country are already demonstrating that they can collaborate without sacrificing local accountability and identity," he added.
"Compulsory mergers would reduce, rather than increase, the quality of neighbourhood policing and distance police forces further from the communities they serve."
The Police Superintendants' Association represents senior officers in England Wales.
Its conference runs from Monday 8 September to Wednesday 10 September and will be addressed by Home Secretary Theresa May on Tuesday.