Big cities should have more power, says report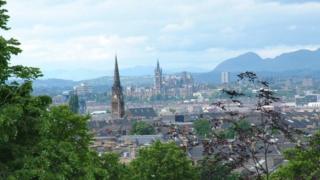 Cities in the UK should have the power to levy their own taxes and have greater control over how public money is spent, a report by the City Growth Commission has said.
The commission was set up to look at how the UK economy could benefit by devolving more power to big cities.
The report argues that over-centralised decision-making in Whitehall is "stifling economic growth".
Some cities should be allowed to set their own business rates, it also said.
The chairman of the commission, economist Jim O'Neill, said the Scottish referendum debate had demonstrated the desire for communities to have greater influence over their own futures.
'Thrive'
He said the future of the UK's 20 larger cities and urban areas - defined by Mr O'Neill as "metros" - will be "more important for UK economic growth than what happens in the rest of Scotland combined".
He said: "The economic importance of our metros is the basis of our medium and long-term economic future. What is ultimately critical for our metros to thrive is for each to identify what is right for them."
The report, entitled Powers to Grow: City Finance and Governance, said that three quarters of the world's population will live in cities by the middle of this century, and it concluded that reform is needed to minimise the risk of a "Whitehall knows best" default mode.
But the report also warned that "not all metros are ready to take this leap and will have to wait until their economic performance and governance structures lend themselves to devolution".
The BBC's local government correspondent Mike Sergeant said that the government had previously agreed deals to hand some powers over to a select group of English cities, but now further devolution was moving up the agenda.
---
RSA's 15 metro areas:
Belfast
Bristol
Cardiff Capital Region
East Midlands
Edinburgh
Glasgow
Greater Manchester
Leicester
London
Merseyside
South Hampshire
South Yorkshire
Tyne and Wear
West Midlands
West Yorkshire
---