France must control its borders - Lord Howard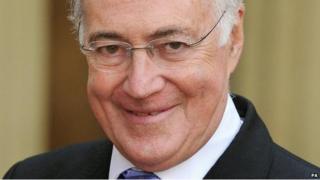 France must control its borders better to stem illegal immigration to the UK, ex-Home Secretary Lord Howard has said.
It comes amid rising tensions in Calais where migrants have protested over their human rights and the mayor has threatened to block the Channel port.
Lord Howard told the BBC the problem was that France was a member of the Schengen Agreement which eases border controls across much of Europe.
The UK was not part of the agreement so had control over its borders, he added.
'Wrong target'
Lord Howard of Lympne, who was the MP for Folkestone and Hythe until 2010, said the UK was not a soft touch for migrants.
He told BBC Radio 4's Today programme: "I've some sympathy for the mayor of Calais and the problems which she's had to face but she's directing her frustration and her anger at the wrong target.
"The general principle which every member state of the European Union has subscribed to is that people fleeing persecution should apply for asylum in the first safe country they reach.
"France used to take this very seriously. When I was home secretary we had an agreement with France under which if people came to the United Kingdom from France and claimed asylum we would return them to France, and France dealt with their claim, and that's what really ought to happen."
The former Conservative Party leader said France had "lost control of its borders" because it was a member of the Schengen Agreement.
Lord Howard added: "Some French governments have recognised this. President Sarkozy, in 2012, threatened to withdraw France from the Schengen Agreement if other countries didn't take measures to control their borders.
"So the mayor of Calais ought to be directing her frustration at President Hollande, and getting him to take the kind of action that President Sarkozy was talking about.
"We have not lost control of our borders - we have control of our borders - but it's the countries of the Schengen Agreement which ought to get their act together and deal with this problem."
'Taken hostage'
There is an increased police presence in Calais after scores of illegal migrants tried to storm a ferry bound for Dover earlier this week.
They were foiled when the crew raised the ramp and turned a fire hose on them. They were later detained by French police.
Police are giving drivers guidance to avoid unwittingly taking on migrants as some seeking to enter the UK have attempted to jump into vehicles.
Mayor of Calais Natacha Bouchart threatened to blockade the port unless the UK helped to control the number of migrants.
She claimed the town had been "taken hostage" by more than 1,000 migrants who wanted to cross the Channel.
Many of them are from African countries, including Somalia, Sudan and Eritrea, while others have fled from the conflict in Syria.
It has been reported that clashes have erupted between rival African migrants.
The protesters who took to the streets handed out a statement to journalists signed "the migrant communities in Calais".
'Criminal gangs'
The Conservative leader in the European Parliament, Richard Ashworth, the MEP for South East England, which includes Dover, said it was not just the UK government that should do something.
He said: "There are large-scale, organised, people-trafficking criminal gangs who are bringing the people here. It is the criminal gangs who are doing it and as far as I'm aware there hasn't been a single prosecution of a criminal gang.
"The police forces right throughout Europe - and I'm not just talking about the United Kingdom here - through France, through Italy, Greece or any other country they come through should be doing more to stop and arrest those criminal gangs."
The French government closed the main Red Cross centre at Sangatte near Calais in 2002 but insanitary illegal camps have constantly sprung up in its place since then.
In recent months French police have tried to break up the camps but the migrants say they have nowhere else to go.
They can often be seen sheltering under plastic bags and sheets, with many depending on charities for food.