Italian air traffic control strike disrupts UK flights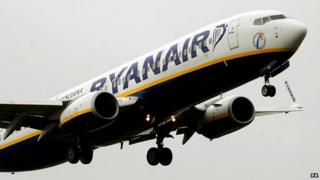 UK travellers are among the air passengers facing major disruption due to a strike by Italian air traffic controllers.
The four-hour stoppage is running between 11:30 and 15:30 BST.
Ryanair said it had cancelled 96 flights, while Easyjet said around 60 would be affected - including 20 flights into and out of the UK.
British Airways said it had re-scheduled some flights but was seeking to minimise disruption.
Ryanair's cancelled flights include seven into and out of the UK, among them Manchester to Bologna, London Stansted to Ancona and Trieste, and Liverpool to Pisa.
Head of communications for the airline, Robin Kiely, said: "We sincerely apologise to all passengers who have had their travel plans disrupted by these unjustified ATC strikes."
'Keep checking'
Ryanair said affected customers would be updated via email or their mobile phones.
In a statement on its website, Easyjet apologised "for any inconvenience that the strike may cause despite this being beyond the airline's control".
It added: "We are doing everything possible to minimise the impact to our customers and we have proactively taken the decision to cancel some flights to allow customers to reorganise their travel plans."
Among the Easyjet cancellations were flights from Gatwick to Pisa, Bristol to Pisa, and Milan to Edinburgh.
British Airways cancelled two Heathrow-bound flights from Rome and one from Milan during the afternoon but is running later services from both cities.
A spokeswoman for BA said: "We have re-timed a number of flights and are using larger aircraft where possible to help more customers, from cancelled flights, fly to where they need to be.
"We are advising customers flying to and from Italy to keep checking the very latest information on our website."
The Independent's travel correspondent Simon Calder said the strike was connected to a long-running protest against plans for a single European airspace. Air traffic controllers believe any changes would lead to job losses and affect public safety.
The airlines took the decision to cancel flights on Friday night and notified passengers, so they should already be aware of the situation, Mr Calder told BBC Radio 5 live.
Under European Union rules, the airlines would have to provide affected passengers with refreshments and potentially overnight hotel accommodation, he added.