Nato summit: David Cameron pledges troops to 'multinational' force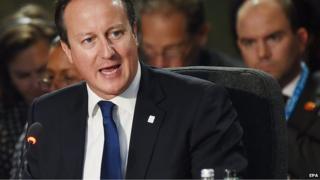 The UK will contribute 1,000 troops to a new multi-national rapid reaction force, Prime Minister David Cameron has told the Nato summit.
He said the Nato "multinational spearhead force" could be deployed anywhere in two to five days.
The PM said leaders were "united in condemnation" of the "barbaric" acts of militant group Islamic State (IS).
He also confirmed a second new Royal Navy aircraft carrier - the Prince of Wales - would be brought into service.
Speaking on the second day of the Nato summit in the Welsh city of Newport, Mr Cameron said the carrier would be used rather than sold off or mothballed.
This would be in addition to the brand new HMS Queen Elizabeth, which Mr Cameron said would be "the mightiest ship that the Royal Navy has ever put to sea".
"This will ensure that we will always have one carrier available, 100% of the time," he said.
"They are an investment in British security, British prosperity and our place in the world, transforming our ability to project power globally, whether independently or with our allies."
This came as Nato members sealed a pledge to reverse declining trends for defence budgets with a commitment for nations to meet targets of spending 2% of GDP over the next 10 years.
'Instability arc'
Earlier at the summit, Mr Cameron said the world faced "new and evolving dangers".
"To the east, Russia is ripping up the rulebook with its annexation of Crimea and its troops on the sovereign soil of Ukraine," he said.
"To the south, an arc of instability bends from North Africa to the Middle East."
He said Nato "must be able to act more swiftly".
The new rapid reaction "spearhead force" will comprise 4,000 troops overall. It will be led by a British general and should be ready to be deployed by the end of 2015.
"This would be part of a reformed Nato response force with headquarters in Poland, forward units in the eastern allies and pre-positioned equipment and infrastructure to allow more exercises and, if necessary, rapid reinforcement," Mr Cameron said of the force.
In addition, the UK will also contribute 3,500 personnel to Nato exercises in eastern Europe over the next two years.
'Almost pathological'
Speaking about IS, which has threatened to kill British aid worker David Haines, Mr Cameron ruled out talking to Syria's President Assad as part of attempts to tackle the threat posed by the militants.
He said Mr Assad was part of the problem and not the solution.
"President Assad is part of the cause of the problem because it has been the brutality with which he has attacked his own people which has led some of them... to seek solace in an extremist movement," he said.
Mr Cameron also warned that threats from IS would only harden the UK's resolve to stand up and defeat them.
IS made its threat against Mr Haines - who was kidnapped in Syria in March 2013 - in a video of the beheading of US journalist Steven Sotloff.
The extremist group, which has seized large swathes of territory in Iraq and Syria and declared a new caliphate - or Islamic state - has killed two US hostages in recent weeks.
Meanwhile, Foreign Secretary Philip Hammond said the British government would "not be diverted from doing what is right by the threats that this organisation is making".
He spoke after it was reported that the family of hostage Mr Haines were worried British airstrikes in Iraq would put his life at greater risk.
On Thursday, Mr Cameron refused to rule out air strikes against IS, the militant group formerly known as ISIL.