Passport Office bonuses revealed after backlog delays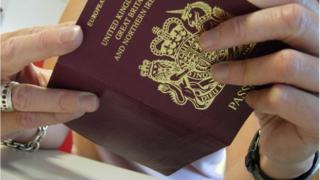 More than 3,800 Passport Office workers have received bonuses this summer, just weeks after details of a major applications backlog emerged.
The Labour Party, which obtained the figures, said bonuses - the largest of which was £5,000 - should not have been paid amid the Passport Office "chaos".
Many families had their holiday plans disrupted by passport delays.
The Home Office said the bonuses were for staff members' performance in the previous year.
It said the payments were agreed in November 2013, after the office "met seven out of its eight key targets".
It added that the "vast majority" of bonus payments were given to junior staff.
But Labour's shadow immigration minister David Hanson said no-one should have received a payment because of the backlog problems.
Details of the bonuses were obtained under the Freedom of information Act.
The scale of the backlog is hard to track because hundreds of thousands of applications are in progress at any one time, but at one point in June more than 50,000 people were facing delays.
In July, Passport Office chief executive Paul Pugh said extra staff had been brought in and the backlog was being reduced.