Policing report: Victims 'asked to investigate crime themselves'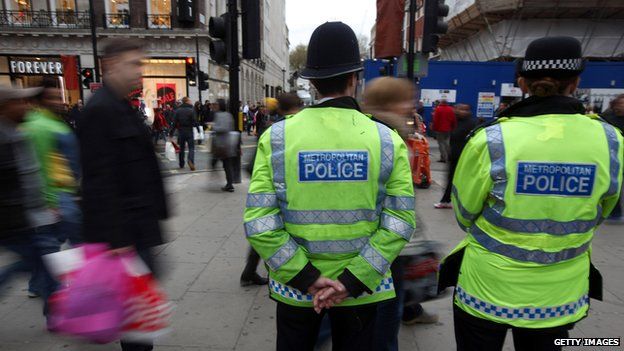 Victims of crime are being "encouraged" to investigate offences themselves, an inspection of police forces in England and Wales has found.
HM Inspectorate of Constabulary said criminal damage and car crime were "on the verge of being decriminalised" because forces had "almost given up".
In some cases victims were asked to check for CCTV or fingerprints.
The Association of Chief Police Officers said austerity meant forces had to set priorities.
The review also found that police community support officers were being used as "detectives" in some forces.
The inspector who led the review, Roger Baker, said: "It's more a mindset, that we no longer deal with these things. And effectively what's happened is a number of crimes are on the verge of being decriminalised."
He added: "So it's not the fault of the individual staff; it's a mindset thing that's crept in to policing to say 'We've almost given up'."
By Danny Shaw, BBC home affairs correspondent
This is a devastating report for the police because it appears to confirm what many of us have experienced over the years - that there are some crimes police simply don't attempt to investigate.
The report's authors aren't saying officers should be sent to every report of a stolen car stereo or broken window (though six forces do). They accept some cases take priority and others don't require police to attend.
But they're deeply concerned about a drift towards ignoring vast categories of offences which, if tackled, could lead to the identification of the perpetrators, with money and time saved later on.
The use of police community support officers as detectives and the encouragement of householders to do their own CID work, as a substitute for proper investigation, might lead some to conclude that this is all about budget cuts.
But those who compiled the review say these trends set in some years before that.
Victims of high-volume offences such as vehicle crime and "burglaries of properties other than dwellings" were asked questions by call-handlers to assess the likelihood of the crime being solved, inspectors found.
HMIC said that in some forces, if they did not know the answers to those questions, they were "asked to speak to neighbours, check for CCTV or view second-hand sales websites to see if their stolen property is being advertised for sale".
The watchdog added: "HMIC finds this expectation by these forces that the victim should investigate his own crime both surprising and a matter of material concern.
"The police have been given powers and resources to investigate crime by the public, and there should be no expectation on the part of the police that an inversion of that responsibility is acceptable."
People received a different response from the police for the same kind of incident, depending on where they lived
Attendance rates at crime scenes varied from 39% in Warwickshire to 100% in Cleveland
About a third of forces were failing to identify vulnerable and repeat victims
There was "inadequate" use of technology by the police
Some forces were losing track of named suspects because they did not have effective systems in place
HMIC made 40 recommendations for forces to improve their performance.
Sir Hugh Orde, president of the Association of Chief Police Officers, said: "The reality of austerity in policing means that forces must ensure that their officers' time is put to best use and this means prioritising calls."
In some cases this meant a victim who was not in danger would be dealt with over the phone, he said, adding that this was "not an abdication of forces' duty of care to victims."
"The simple fact than an officer doesn't turn up does not mean the offence has not been taken seriously," said Sir Hugh.
The Chief Inspector of Constabulary, Tom Winsor, said a cut in police spending was no excuse for failing to investigate crime.
"This isn't a question of austerity, principally," he said.
"Over the last 10 years we've seen a 38% drop in crime, 10% since 2010.
"The nature of crime is changing, there's much more cyber crime, online fraud, things of that kind.
"But the public have a right to have their crimes investigated - and indeed some forces do turn up to 100% of crimes.
"Even the Metropolitan Police, the largest force in the country - they will come to all crimes if the public want them to do so."
The president of the Police Superintendents' Association of England and Wales, Chief Superintendent Irene Curtis, said the report made for "uncomfortable reading".
"Forces have made significant efforts to save money and have continued to reduce crime as well as doing their best to protect the front line," she said.
"But the report indicates that while this has been going on, some of the basic functions of policing appear to be slipping through the cracks in some areas."
Professor Craig Jackson, an expert in criminal psychology at Birmingham City University, said failing to investigate less serious crimes could cause problems.
"Many sex offenders and stalkers start out with minor crimes and low-level nuisance behaviour, such as trespass and damage of a victim's property," he said.
"An early opportunity to link serial crimes like this, and to therefore then prevent more serious offences being committed later, could be missed."
Shadow policing minister Jack Dromey said the public would be "extremely alarmed" by the HMIC review.
He said: "This a damning indictment of this government's claims to be cutting crime. In fact, what is being cut are the number of crimes investigated."
Related Internet Links
The BBC is not responsible for the content of external sites.