Police, ambulance and fire services 'need integrating'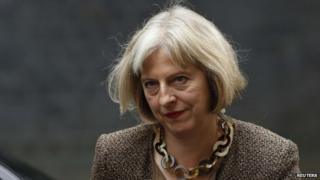 Police, ambulance and fire services in England and Wales need to be "integrated" to save money, the Home Secretary Theresa May has said.
In future emergency services could share "back office functions" and be located on the same site, she said.
She added that there was a "still-large deficit" and as a result further cuts to emergency services were needed.
Police and crime commissioners are already looking at how they could collaborate, she said.
In a speech to centre-right think tank Reform Mrs May said: "With a still-large deficit and a record stock of debt, there will need to be further spending cuts, as even Labour acknowledge.
"So in policing in the future, I believe we will need to work towards the integration of the three emergency services."
Some cities have already started to merge services, and Mrs May made reference to Northamptonshire, where Police and Crime Commissioner Adam Simmonds has launched joint operations planning teams involving both the police and fire services.
Mr Simmonds has previously spoken about the future possibility of potentially sending just one emergency vehicle to the scene of an accident - which would be equipped for all eventualities.
In March the then fire minister, Brandon Lewis, also outlined other examples where plans to share services were being put in place to save money.
These included the predicted saving of £4m in Hampshire where the police, fire service and Hampshire County Council are sharing offices and £3.5m expected to be saved in Merseyside where fire and police services are planning to share a control room.