British Jews and Muslims issue joint call for peace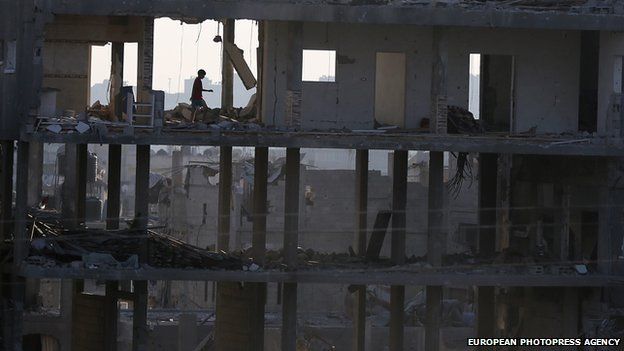 Jewish and Muslim leaders in the UK have urged followers of their faiths to "export peace" to the Middle East.
In an unprecedented joint statement, the Jewish Board of Deputies and Muslim Council of Britain (MCB) condemned Islamophobia and anti-Semitism.
In it they acknowledge the "deeply-held views" about the conflict between Israel and Palestinians.
The statement clearly describes the loss of civilian life as unacceptable for both religions.
The call for peace comes after Israel and Hamas agreed an indefinite ceasefire following 50 days of fighting which has claimed the lives of more than 2,000 mostly civilian Palestinians and 70 Israelis, 64 of whom were soldiers.
"In spite of the situation in the Middle East, we must continue to work hard for good community relations in the UK," the statement said.
"We must not import conflict. We must export peace instead."
Reports have suggested a rise in anti-Semitism since the conflict in Gaza began.
Calling on Jews and Muslims to "redouble efforts to work together and get to know one another", the statement added: "We condemn any expression of anti-Semitism, Islamophobia or any form of racism."
The community leaders said there was more that united than divided followers of the two religions.
And while they acknowledged that "our communities may disagree about the origins, current reasons and solutions to end the conflict" in the Middle East, they pointed to areas of agreement.
"The death of every civilian is a tragedy, and every effort should be taken to minimise such losses," the statement said.
"The targeting of civilians is completely unacceptable and against our religious traditions.
"We pray for a speedy end to the current conflict and for a lasting peace for all."
The paper's report suggests a dispute has since broken out over what is implied behind the phrase "targeting of civilians".
A spokeswoman for the MCB reportedly told the paper: "It refers to both sides, Israel and Hamas."
The Jewish Chronicle quoted a spokesman for the Jewish Board of Deputies who said: "We are very clear that the Israel Defence Forces (IDF) does not target civilians - that's why we felt able to sign it."
The board describes itself as existing to "promote and defend the religious and civil liberties" of Jews in Britain.
Its Muslim counterpart the MCB is a national body of more than 500 affiliated mosques and other Muslim organisations in the UK.