Met chief backs 'new control orders' to tackle jihadists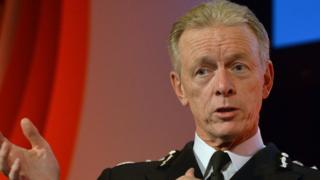 Measures similar to control orders should be re-introduced to tackle the threat from Britons who fight with militants in Syria and Iraq, the UK's most senior police officer has said.
The orders were replaced in 2011 by less restrictive measures but Met Police chief Sir Bernard Hogan-Howe said the "drum beat has changed".
He also told LBC radio he would back a call to seize passports from jihadists.
The home secretary has already proposed changes to the law to tackle extremism.
Control orders, under which ministers could sign an order placing a suspect under close supervision. were scrapped and replaced with Terrorism Prevention and Investigation Measures (TPims).
Sir Bernard said "something like" control orders were needed again as people subject to TPims could not be made to live in a specific location - and that "puts quite a lot of responsibility on all the security services".
He told LBC that control orders "were stopped because the threat was reduced and quite properly they were seen as too intrusive... But I think these things have got to be considered when the drum beat changes".
His comments came after Mayor of London Boris Johnson said in a newspaper article at the weekend that control orders should be brought back.
Mr Johnson also said Britons who travel to "war areas" should be presumed to be potential terrorists unless they can prove otherwise and people with "allegiance to a terrorist state" should lose their citizenship.
'Too much sensitivity'
Sir Bernard, who told LBC it was now thought that at least 500-600 Britons had travelled abroad to fight with the Islamic State group, was asked if he would support calls for their passports to be taken away.
He said: "Certainly for us anything that either stops them from going or preferably stops them from coming back is a good idea.
"If it works, we should do that. It seems to me it's a privilege to have a passport and be a citizen of this country, and if you're going to start fighting in another country on behalf of another state, or against another state, it seems to me that you've made a choice about where you want to be."
He said it was thought that about 250 Britons had already returned to the UK.
He said: "The big thing for us, that we have talked about, is if we can get an assumption that when people come back and they have been to Syria, they have been involved in terrorism - if they can prove they haven't then it's up to them."
He added that his officers were going to do more to tackle street extremism that stops short of terrorism.
Sir Bernard said that there had been "too much sensitivity" over tackling hate preachers.
"We are not going to allow them to block the streets - they cannot preach hate and it is very clear that it has left a fertile ground for those are wanting to abuse the privileges of a democracy."
New banning orders
The Home Office said Tpims were a "useful weapon" and introduced when control orders were being "struck down" by the courts.
A spokesman added: "The police, security services and Border Force are actively working to identify, detect and disrupt terrorist threats, including from British fighters attempting to return to the UK.
"They use a wide range of powers including those which allow them to detain and interview individuals at the UK border suspected of being involved in terrorism."
But Home Secretary Theresa May announced last week that she was "looking again at the case for new banning orders for extremist groups that fall short of the legal threshold for terrorist proscription, as well as for new civil powers to target extremists who seek to radicalise others".
She said rules were being changed to make it easier to strip Britons of their passports to stop them travelling to Syria.
Shadow home secretary Yvette Cooper said more should be done to respond to the problem of Britons people travelling abroad to fight.
She said the home secretary needed to respond to the concerns raised by the current and previous independent reviewer of terrorism legislation about the decision to "weaken" control orders.
Addressing Sir Bernard's comments, Rachel Robinson, from the human rights group Liberty, questioned why the police chief was "wading into politics".
"Police are meant to enforce the law impartially, not lobby for wacky and dangerous new powers," she said.