General Sir Richard Shirreff in Russia warning to West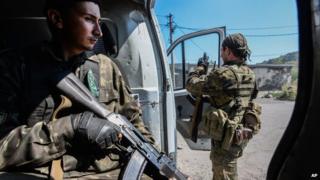 Western Europe would struggle to defend itself against Russia, a former Nato supreme commander has warned.
General Sir Richard Shirreff told BBC Newsnight members of the alliance must re-arm to face the Russian threat.
He also said the prime minister made a mistake by ruling out sending troops into Iraq to fight Islamic State (IS).
David Cameron has said the UK would not get involved in another war in the country after IS jihadists advanced in northern Iraq over the summer.
Unpopular
The general - until March the UK's most senior officer at Nato - accepted that calling on western Europe to re-arm was not a popular thing to say in the current economic climate but said Nato had to "rebuild capability".
In the interview, the general said: "I've no doubt it's an unpopular message but it's a message that our political leadership need to take home and listen to and act on if they're serious about ensuring that Nato has the means to defend itself in future."
He said there had been a "dismantling of military capability" and that European nations had to put their "hands in their pockets to spend more money on defence".
Next month's Nato summit in Newport, south Wales, would be an opportunity to send a "strong message" to Russia, according to the general.
He added that the "security framework" in Europe had changed as a result of Russia's annexation of the southern Crimean peninsula from Ukraine in March.
More than 2,000 people have now died in months of fighting between Ukrainian forces and separatists in the Donetsk and Luhansk regions.
But the general said there was "a mismatch between the rhetoric we hear around the North Atlantic council table about commitment to operations and what nations are really prepared to put on the table".
Referring to Nato members, he added: "They would find it very difficult to put in to the field, at sea or into the air, the means required - particularly on land, I would assess - to counter any form of Russian adventurism."
'Rule out nothing'
Asked about the UK's commitment to tackle IS, General Shirreff said: "It's one thing to say that we're going to deal with it, but you have to back up your words with actions.
"In my view, we should therefore rule out nothing.
"Coming back to what the prime minister has said, ruling out combat boots or boots on the ground, and saying as he did in the paper the other day 'we don't want to fight', is immediately giving your opposition 15 or 30 points up at the beginning of the match."
He also addressed the issue of whether talks with Syrian president Bashar al-Assad would be necessary over IS.
"There can be no eradication of Islamic State as a threat without a regional approach," he said. "Islamic State is operating and has spread into Syria and therefore, there is likely to be - or inevitably going to be - a need to sit down and talk to difficult bedfellows."