Family of British Ebola patient William Pooley praise care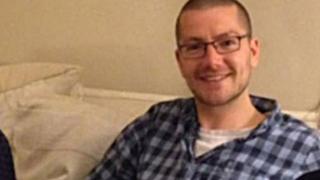 The family of a volunteer nurse being treated at a hospital in London after contracting Ebola in Sierra Leone has said he is receiving "excellent care".
William Pooley, 29, returned to the UK on Sunday and is being kept in a special isolation unit at Hampstead's Royal Free Hospital.
Mr Pooley was caring for victims of the Ebola outbreak in Africa which has killed almost 1,500 people.
He has been described as a "hero" by a charity he worked for in Sierra Leone.
Mr Pooley, believed to be from near Woodbridge in Suffolk, is the first confirmed case of a Briton contracting Ebola in the current outbreak.
In a statement, his family thanked those involved in transporting him back to the UK on an RAF plane.
They said: "Will is receiving excellent care at the Royal Free Hospital and we could not ask for him to be in a better place.
"We would like to thank all our family and friends for their best wishes and ask everyone to remember those in other parts of the world suffering with Ebola who do not have access to the same healthcare facilities as Will."
'Extraordinary guy'
The Shepherd's Hospice, where Mr Pooley provided palliative care for non-Ebola patients before moving to a hospital to work with people with the virus, said he was aware of the risks but determined to help.
"We consider him a hero," Gabriel Madiye, the charity's executive director, said.
He said Mr Pooley was "somebody who is sacrificing to provide care in very difficult circumstances - when our own health workers are running away".
In an interview with the Guardian, which the newspaper said was recorded days before he contracted Ebola, Mr Pooley spoke of his experience helping patients with the disease.
"It's great seeing them walk away after some of them have been in a terrible state," he said.
"To see them recover and walk out the door, it's great."
Dr Oliver Johnson, who worked with Mr Pooley on the Ebola treatment ward at the Kenema Government Hospital, said the volunteer was an "extraordinary guy".
He said: "For those of us working with Ebola patients in Sierra Leone he stood out as being particularly brave. And really from the beginning he was determined to help in any way he could."
Mr Pooley is being treated in a unit designed for patients with highly infectious diseases, the only one of its kind in Europe.
A special tent ensures medical staff can interact with the patient but are separated by plastic and rubber.
There is no cure for Ebola but with treatment of the symptoms, and proper hydration, patients have a chance of survival.
Prof Jonathan Ball, a virologist at Nottingham University, said there would be immediate testing to ensure all organs were functioning.
"He really is in the best place and will have the best possible care," he said.
Last week, two Americans who contracted the disease in Liberia made a recovery and were discharged from hospital in the US after being given an experimental drug called ZMapp.
Meanwhile, a Liberian doctor who contracted Ebola died on Sunday, despite taking ZMapp, Liberia's information minister has said.
Abraham Borbor was one of three doctors in Liberia who had been given ZMapp and had been showing signs of recovery.
The US manufacturer of the drug has said supplies have run out, but the Department of Health said it was trying to obtain any remaining doses.
BBC News understands those treating Mr Pooley have not ruled out the use of monoclonal antibody therapies, such as ZMapp.
Department of Health deputy chief medical officer Prof John Watson has said the risk of Ebola to the UK remains "very low".
The World Health Organization has estimated 2,615 people in west Africa have been infected with Ebola since March.
Health officials have reported the first cases outside west Africa, in the Democratic Republic of Congo.
The virus is spread between humans through direct contact with infected bodily fluids. It is one of the world's deadliest diseases, potentially with a mortality rate of 90%. However, the current outbreak has a fatality rate of 55%.
---
Ebola Virus Disease (EVD)
Symptoms include high fever, bleeding and central nervous system damage
Fatality rate can reach 90% - but current outbreak has mortality rate of about 55%
Incubation period is two to 21 days
There is no vaccine or cure
Supportive care such as rehydrating patients who have diarrhoea and vomiting can help recovery
Fruit bats, a delicacy for some West Africans, are considered to be virus's natural host
---
Have you or has someone you know been affected by the current Ebola outbreak? You can email your experiences to haveyoursay@bbc.co.uk.