Fresh talks in bid to break firefighter pensions deadlock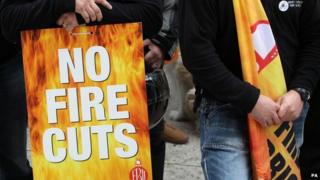 Efforts to break a deadlock in a long-running row over firefighters' pensions are to be ramped up with fresh talks.
Union leaders will meet a government minister later to flesh out issues at the heart of the conflict, which has seen firefighters in England and Wales go on strike 40 times in the past year.
The latest round of strikes by members of the Fire Brigades Union (FBU) ended last week with further action possible.
They claim government changes will mean working more hours for lower pensions.
FBU general secretary Matt Wrack will meet communities minister Penny Mordaunt on Friday.
In a letter to the minister, Mr Wrack said the union was always willing to discuss a way forward.
"We have never walked away from talks or refused to meet," he said.
"Nevertheless, talks must be conducted with a view to resolving the matters between us. Therefore, we hope that you will be attending the meeting with revised proposals in relation to the concerns we have raised."
Controversial plans include raising the retirement age among firefighters from 55 to 60, and increasing their pension contributions.
Ms Mordaunt said she was pleased both parties were resuming talks.
"I hope that the Fire Brigades Union will use this opportunity of renewed discussion to move forward with our improved arrangements which address the issues of early retirement and fitness," she said.
"Any further industrial action can only be counter-productive and serve to hurt firefighters and the public they serve."
Earlier this month, the union said it feared many members could fail the fitness tests required to remain on active duty in their late 50s and have to leave the service as a result.
It also said government proposals would mean that if firefighters opted for early retirement, the reduction in their pension would be "unacceptably high".