Which? survey: Smaller airports earn passenger praise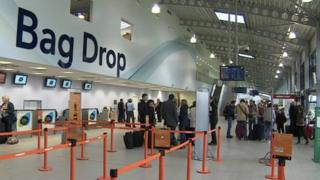 Passengers should try to use the UK's smaller airports for a better holiday experience, a survey has suggested.
The poll by consumer group Which? found they had customer satisfaction ratings of up to 85% compared with less than 50% for some of the largest airports.
Southend and Robin Hood Doncaster Sheffield topped the table, with Luton at the bottom with a rating of 37%.
Which? executive director Richard Lloyd said larger airports "continue to let people down on the basics".
The survey of more than 7,000 Which? members asked them to rate airports in categories including pick-up and drop-off, seating provision, queues at security, passport control and baggage reclaim.
Among the smaller airports, the top two were followed by Blackpool and London City (both 80%), and Inverness and Southampton (both 78%).
The next lowest of the bigger airports after Luton were Stansted and Heathrow Terminal 1 (both 43%), Heathrow Terminal 3 (46%), Heathrow Terminal 4 (48%) and Gatwick's North Terminal (49%).
The highest rated in this category of airport was Newcastle at 66%.
Larger airports were classed as those handling at least four million passengers a year.
Baggage reclaim was the most common cause of complaint for holidaymakers, with 37% citing it as a frustration.
Again, the bigger airports fared badly on this with 14 of the 20 surveyed scoring just two stars out of five.
Mr Lloyd said: "The message from travellers is clear - larger airports continue to let people down on the basics, from baggage reclaim to food outlets.
"People deserve an enjoyable break without any stress, so we want to hear from consumers so that we can help to stop the holiday hassles."