Stowaway survivor 'feared death' during journey to UK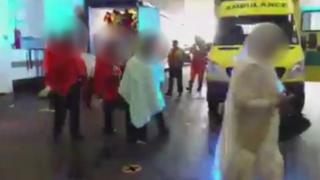 It was supposed to be the journey to a new life but it ended with a father dying and 34 others fearing for their lives.
At the weekend, footage emerged of stowaways leaving a shipping container at Tilbury Docks in Essex, wrapped in blankets and gasping for breath.
Many of them needed hospital treatment and now they have recovered they have been moved to a hostel in London.
One of the group - who say they are from Afghanistan - has told the BBC of the horrors he and his family faced in Kabul and the perilous journey they made in the container. To protect his identity we are calling him "Ranjit".
'Persecution'
Ranjit told us he had paid an agent who promised him that he and his family would be taken to a place where they could practise their religion freely.
He says he saw this as his chance to escape the persecution he and his family faced as Sikhs in Afghanistan.
Ranjit said he and his wife and six-year-old son travelled for 15 or 16 days. They were taken by plane initially, then travelled in lorries, being taken from country to country and never knowing where they were.
"When we got in the container, we didn't know where we were. We were told we would be in there for five, six possibly eight hours," he says.
Ranjit said they ended up spending 18 hours inside. During the journey his son started to feel unwell and towards the end he was in need of medical help. There was very little air.
"I had no food, no water to give to him. I cradled him in my arms and he said to me 'Daddy, I'm dying'. He was in such a bad state."
Ranjit said that in Afghanistan his civil liberties had been restricted under the hardline Islamists of the Taliban.
He said his wife could not leave the family home except to go to the local gurdwara (the place of worship for Sikhs) and he witnessed many atrocities.
"You can't believe what I have seen with my very own eyes," he said.
One day, Ranjit said, he saw a young girl have her nails inspected by the Taliban police and when they saw she was wearing nail varnish they chopped off her fingers to punish her.
"This is what I have come from," he said.
He went on to say that he could not read or write and he had no access to education.
In the UK, the stowaways have had help from the Sikh community, receiving donations of clothes, food and even phones.
Arrests
Placing his hands in the prayer position, Ranjit says: "We are so grateful to the authorities here in the UK who have helped us. I'm just so thankful to come out alive. I feel I've got a second chance at life."
Meanwhile the wife and children of Meet Singh Kapoor, the man who died in the container, are being comforted by their extended family in west London.
A post-mortem examination was inconclusive and more tests are being carried out to establish how he died.
Two men from Northern Ireland have been arrested on suspicion of manslaughter and facilitating illegal entry into the UK.
The stowaways are now in the process of claiming asylum. The Home Office has declined to comment, saying it does not give details on individual cases.