Assisted suicide: One Briton a fortnight goes to Switzerland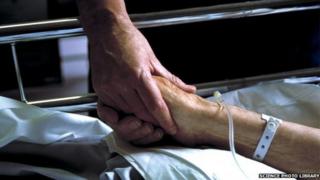 An average of around one person a fortnight travels from the UK to Switzerland to receive help to take their own life, a study has suggested.
Researchers from Zurich University said 126 Britons visited the country's clinics to die between 2008 and 2012.
Euthanasia and assisted suicide are illegal in the UK but the Swiss permit assisted suicide in some circumstances.
Britons accounted for a fifth of the foreigners going to Swiss right-to-die facilities over the period.
The total number of foreigners going to the country to die rose from 123 cases in 2008 to 172 in 2012.
Some 611 people from 31 countries travelled to the country over the five-year period to take advantage of its liberal laws on assisted dying.
British patients were second only to Germans as the biggest national group to seek help to end their lives in Switzerland.
'Unethical'
The study, which was based on figures from the Zurich Institute of Legal Medicine database, found that all but four individuals seeking assisted suicide used the well-known Dignitas clinic.
In 2009, the number of people going to Switzerland to take their own lives fell from 123 the year before to 86, but numbers have risen since.
The study also found that nearly 60% of clients were women with an average age of 69 - although ages ranged from 23 to 97.
Sarah Wootton, chief executive of Dignity in Dying, said although rates fluctuated year to year, the UK stats "reinforce that there is a problem with the law in this country".
"It's clearly unethical to force dying Britons to travel abroad to die through a lack of safeguarded choice in this country," she added.
"But there is also a patient safety issue. We have no control over the law in Switzerland, but we can and should regulate and safeguard assisted dying in this country."
Safeguards
Six right-to-die organisations operate in Switzerland, offering assisted suicide to members provided they meet certain criteria.
Assisted suicide is legal in the country so long as the person helping does not personally benefit from the death.
Four of the Swiss bodies offer services to foreign nationals - including those from the UK.
According to the study, the Swiss organisations deal with around 600 cases of suicide per year - 150 to 200 of which come from abroad.
The Dignitas clinic is said to charge between 9,000 and 10,500 Swiss francs (about £6,000 to £7,000) for its services.
Assisted dying was recently debated in the House of Lords, after Lord Falconer presented an Assisted Dying Bill that would offer terminally-ill patients deemed mentally capable and within six months of likely death the chance to die.
The campaigner argued allowing assisted suicide would mean less suffering and not more deaths.
But opponents have warned the legislation does not have adequate safeguards.