UK sends first food supplies to refugees in northern Iraq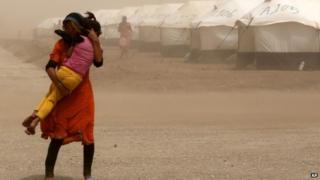 The UK has delivered its first batch of emergency food aid to refugees fleeing Islamist militants in northern Iraq.
Forty-five tonnes of highly-fortified food pastes and 515 tents will be distributed in the region.
The supplements are expected to feed 32,000 children for a month. The delivery follows seven previous RAF aid drops, which did not contain food.
The UN is also due to begin a large-scale aid operation with officials insisting help is desperately needed.
Islamic State militants have seized parts of northern Iraq amid continuing reports of massacres of non-Muslims.
Some half a million are said to be displaced in Iraq's Dahuk region.
'Worsening situation'
Two cargo flights chartered by the Department for International Development (DfID) landed in Erbil on Tuesday to deliver supplies of the supplements - designed to provide essential calories, proteins, fats, vitamins and minerals.
The products, from the World Food Programme (WFP), will be distributed by charities and UN agencies to people cut off from their homes in camps in the Dahuk region.
Among them are packets of Plumpy'Doz, intended as a supplement to food and made of peanut paste, vegetable fat, skimmed milk powder, whey, maltodextrin and sugar, according to the WFP.
Although it contains peanuts, a WFP spokesman said it had yet to encounter individuals with allergies to the product in areas where it is distributed.
The tents, which were sent with the food supplies, will be used to shelter around 2,575 people.
International Development Secretary Justine Greening said the supplies were essential to tackle the "worsening humanitarian situation" across northern Iraq.
'Immense courage'
"These hundreds of DfID tents will provide families who have lost everything with decent shelter now, as well as during the colder winter months, and the high nutrition food we have flown to Iraq on behalf of the World Food Programme will provide nutrition for thousands of children," she said.
"Many of these are the displaced Iraqis who managed to escape Mount Sinjar by walking many miles in searing heat. They have shown immense courage and been through unimaginable hardships. The UK is committed to supporting them."
Fighters from IS, formerly known as Isis, expanded their areas of control in northern Iraq this month, forcing thousands from the cities of Qaraqosh and Sinjar to seek safety in nearby Kurdish provinces.
Kurdish forces, supported by US air strikes, have managed to recapture the strategically important Mosul Dam, while the UK pledged a firm security response to the crisis.
The UK has so far committed £13m in new funding in response to the crisis in Iraq.
The RAF has made seven air drops of UK aid over Mount Sinjar - where refugees had been trapped - including water containers, solar lamps and shelter kits.
On Saturday, the UK also sent 8,000 kitchen sets - including cutlery, cooking pots, plates, frying pans, cups and wooden spoons - aimed at helping 40,000 people cook for themselves and feed their families.
Kurdish groups in the UK are also sending aid to the region. Hoshmand Jaff from the Kurdish Cultural Centre in London said the centre had received around "a tonne" of supplies. Other groups in the UK are expected to send their own contributions.
IS-led violence has so far driven an estimated 1.2 million Iraqis from their homes.
Whole communities of Yazidis and Christians have been forced to flee, along with Shia Iraqis, whom IS do not regard as true Muslims.