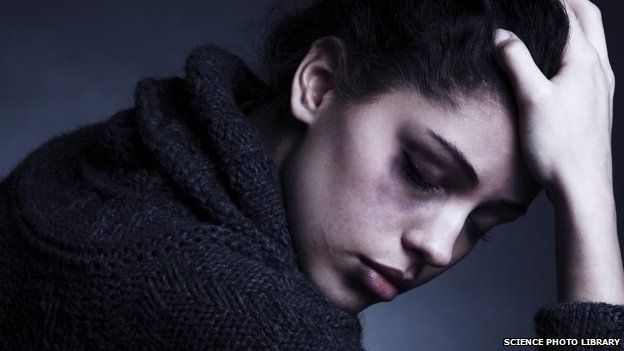 A new crime of domestic abuse could be created under plans being considered by ministers.
Home Secretary Theresa May is consulting on creating the offence in England and Wales as part of attempts to improve police performance.
Existing law already covers coercive and controlling behaviour - but it does not explicitly apply to relationships.
Earlier this year Mrs May ordered chief constables to come up with domestic abuse action plans by September.
Last year ministers redefined domestic abuse, telling forces and other criminal justice agencies that it included both violence and acts of psychological control that left victims in terror.
There are a string of laws that already cover acts of violence, stalking and harassment - but none of them refer in their wording to personal relationships or the precise terms of the official definition of domestic abuse.
Official definition of domestic abuse in England and Wales:
"Any incident or pattern of incidents of controlling, coercive, threatening behaviour, violence or abuse between those aged 16 or over who are, or have been, intimate partners or family members regardless of gender or sexuality."
The behaviour captured in this definition includes:
"… a pattern of acts of assault, threats, humiliation and intimidation or other abuse that is used to harm, punish, or frighten their victim".
Ministers are now asking whether a specific crime would end any ambiguity, leaving police in no doubt over their powers to intervene.
The offence could cover not just acts of violence but incidents of psychological control which cut off victims from friends and family, or deny them money or other means to live freely.
Mrs May said: "The government is clear that abuse is not just physical. Victims who are subjected to a living hell by their partners must have the confidence to come forward. I want perpetrators to be in no doubt that their cruel and controlling behaviour is criminal.
"We will look at the results of this consultation carefully in order to continue providing the best possible protection and support for victims of domestic abuse."
'He basically reprogrammed me'
Anna Larke is the former girlfriend of comedian Justin Lee Collins, who was convicted of harassing her and "causing fear of violence" in October 2012.
She says the early stages of their relationship were "wonderful". But later, Lee Collins bought her a mobile phone with a new number, telling her she was not allowed to talk to anyone from her past. He also told her she could not use social media like Facebook and Twitter.
She says she was also told what to wear and how to speak: "Every single aspect of me he wanted to change. He told me our relationship would be so much better if I changed."
Verbal abuse followed, Ms Larke says, adding that Lee Collins made her stay up with him until 4am and "put the breakfast out in a certain way".
"He basically reprogrammed me to make me think that I was just worthless and absolutely nothing."
Ms Larke believes if the proposed law had been in place during her case, it would have "sped up the entire process".
"I really hope that with this new law it will spur people who have been through it to come forward and report it and not to be afraid of reporting it."
Polly Neate of domestic abuse charity Women's Aid said the consultation was a vital step forward.
"Two women a week are killed by domestic violence, and in our experience of working with survivors, coercive controlling behaviour is at the heart of the most dangerous abuse," she said.
Crimes of domestic abuse
England and Wales, Sept 2012-13
269,700 Total domestic abuse-related crimes

57,900 Cases involving high risk of serious harm or murder offences

96,000 Cases of assault with injury
SPL
The highly critical report found that less than a quarter of forces were responding well to domestic abuse - prompting the Home Secretary to order chief constables to have action plans in place by September to improve their performance.
Separate figures show the Crown Prosecution Service has achieved a record number of convictions in domestic abuse cases - 58,000 defendants in the year to April 2014.
But Labour says the proportion of domestic abuse crimes leading to prosecution and conviction has been falling - indicating a deeper problem.
Shadow home secretary Yvette Cooper said: "We've called for the law on domestic violence to be strengthened for some time and have pledged new legislation in the first Queen's speech of a Labour government.
"Theresa May just isn't doing enough to reverse the backwards slide in action against domestic violence or support for victims on her watch."
The government has previously launched a scheme that allows police to disclose information about previous violent offending by a partner - and separate powers to ban abusers from the home for up to 28 days.
Harry Fletcher, a leading criminal justice reform campaigner, has been part of recent moves to get a domestic abuse law through Parliament via a private members' bill.
Mr Fletcher said: "Although we welcome the consultation, we hope that it does not delay the possibility of getting a Bill through Parliament this year. Women in the England, Wales and Northern Ireland have waited far too long for a Domestic Violence Bill that can offer them protection".