Former Met PC jailed for selling stories to the Sun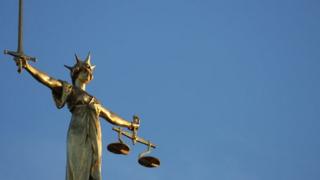 A former Metropolitan Police constable who worked with his mother to sell a story to The Sun newspaper about a British soap actor's attempted suicide has been jailed for 12 months.
Thomas Ridgeway, 31, passed two stories to the tabloid through his mother.
Ridgeway, of Wallington, south London, admitted two charges of misconduct in public office earlier this year.
His sentence can be disclosed after his mother, Sandra Ridgeway, was given an 18-week suspended sentence.
Sandra Ridgeway, of New Malden, south-west London, admitted aiding and abetting misconduct in public office.
At an earlier hearing, Old Bailey Judge Richard Marks QC told former PC Thomas Ridgeway: "This sort of offending, as you will understand, is far too serious to be dealt with in any other way than a sentence of immediate imprisonment."
The judge said Ridgeway, who was based at Kennington, south London, first provided confidential information for money in 2004 when "a well-known British actor" attempted to take his own life.
Ridgeway's mother acted as a conduit between him and the newspaper, the court was told.
The judge added: "They were, not unnaturally, very interested in the story and paid your mother a total of £1,600, of which she gave you half."
The second story concerned the alleged sexual activity of off-duty police officers.
The judge said: "It appears that you learned of this as a result of gossip around the police station, you were not yourself present at the pub when these events are alleged to have occurred, and once again you decided to pass this information to The Sun for financial gain."
This time, his mother was paid £1,000 after two stories appeared in the newspaper.
"You have lost your career and lost your good character," the judge told him. "You effectively had two paymasters, as the prosecution put it - your employers, the Metropolitan Police, and The Sun."