Most popular baby names Amelia and Oliver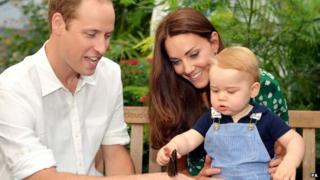 Oliver has overtaken Harry to become the most popular boys' name for babies born in England and Wales in 2013.
Amelia tops the girls' list for the third year running, beating Olivia and Emily into second and third.
Figures from the Office for National Statistics reveal that Oscar and George replaced Alfie and Riley in the top 10 while Poppy is a new entry at seven.
More than 35,000 different girls' names were registered in 2013 - compared to 27,000 for boys.
Elsie surged higher than any other name in the top 100, rising 23 places to number 47, while Theodore jumped 19 places to become 78th most popular boys' name.
Victoria (88th), Darcy (93rd) and Beatrice (95th) were all new entries for 2013.
Teddy was new to the boys' top 100, ranked number 86 alongside other newcomers Ibrahim (89th), Ronnie (90th), Felix (91st), Austin (94th) and Albert at number 99.
The ONS counts similar names with different spellings separately.
---
Analysis
By Anthony Reuben, BBC News head of statistics
In previous years, some people have added up the spellings of Muhammad to put it in first place on the list.
There are eight different spellings, and if you add them up you get to 8,380, which would put the name in first place, ahead of Oliver on 6,949.
But you're on a slippery slope once you start combining entries on the list.
If you add the number of babies called Harry to the number called Henry, for example, you get to 9,136. Combining Jack and Jacob gives you a whopping 13,649.
At the other end of the scale, the list goes down as far as names given to three babies, such as Achilles, Cecil, Ming and Rick for boys and Beryl, Darwin, Jo and Tracey for girls.
And among the more unusual, names of Harry Potter characters have started appearing in lists - including Draco, Sirius and Bellatrix.
---
TV influences
George appeared in the top 10 names in every month bar January until Prince George's birth in July, after which its popularity appeared to wane.
Top 10 baby names 2013
Rank
Boys
Girls
1
Oliver
Amelia
2
Jack
Olivia
3
Harry
Emily
4
Jacob
Ava
5
Charlie
Isla
6
Thomas
Jessica
7
Oscar
Poppy
8
William
Isabella
9
James
Sophie
10
George
Mia
Emily, Jessica, Olivia and Sophie are the only girls' names which remain in the top 10 a decade on from 2003's list.
For boys, the names of Jack, Thomas, James, William and Oliver have all remained popular over the last 10 years.
Liam (67th) has fallen more places than any other boys' name since 2012, dropping 17 places.
Paige is now 98th, down from 80th the previous year.
Of the girls' names in this year top 10, Isla has climbed furthest since 2003, up 195 places to 5th while for boys Oscar is up 55 places in the same period to seventh.
TV programmes such as Breaking Bad also appear to be having an effect.
There were 72 babies named Skyler - the name of the lead female character - while 58 boys were titled Walter, her on-screen husband.
Harper has increased in popularity after the Beckhams gave their first daughter the name in 2011.
There were hardly any babies named Amélie when the French film was released in 2001 but now more than 1,000 girls have the name.
---
What's in a name?
Over the last 70 years, researchers have tried to gauge the effect on an individual of having an unusual name.
It is thought that our identity is partly shaped by the way we are treated by other people - a concept psychologists call the "looking-glass self" - and our name has the potential to colour our interactions with society.
Early studies found that men with uncommon first names were more likely to drop out of school and be lonely later in life.
One study found that psychiatric patients with more unusual names tended to be more disturbed.
Read more: Does a baby's name affect its chances in life?
---
Sarah Redshaw, managing editor of the website BabyCentre, said surnames are "making a trend on their own as first names".
She said: "TV programmes, like Downton Abbey for example, can have a huge influence on parents.
"We're seeing a rise in popularity of the names Violet and Edith, and of quite traditional names.
"Also we're seeing a rise in surnames as Christian names - so names like Riley, Clark - and Harrison is a popular name as well.